Knights Sign Oregon State Reliever Max Engelbrekt.
April 30, 2013
Lefty from Seattle Having Solid Freshman Season for Beavers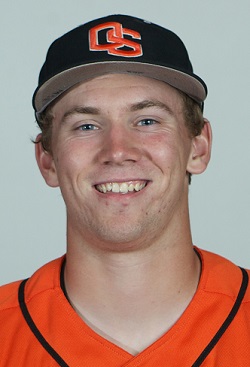 The Knights have signed Oregon State freshman pitcher Max Engelbrekt (pictured) for the 2013 season. He is a 6-foot-3, 197-pound lefty from Seattle.
He will join OSU He joins OSU teammates Andrew Moore, a freshman right-handed pitcher from Eugene, and Gabe Clark, a freshman infielder from Riverside, Calif., on the Knights, who open their season June 4 with a nonconference game against the Portland Lobos.
A reliever, Engelbrekt is 3-0 with a 1.74 ERA in 16 appearances, with four saves and 15 strikeouts in 20.2 innings heading into this weekend's Pacific-12 Conference series against California at Goss Stadium. Opponents are hitting just .222 against him.
"It's nice to stay in Corvallis," Engelbrekt said. "I've gotten very comfortable living here; it's just easy for me. I'll be able to get my lifting in whenever, and I like playing here.
"I'd like to keep working, get stronger, and get bigger. I'll compete whenever I'm throwing, and I'm looking forward to having a good summer."
A torn right anterior cruciate ligament sustained in a pickup basketball game prevented Engelbrekt from playing school or summer baseball his senior season (2012) at Bishop Blanchet High School in Seattle. So, he's eagerly anticipating his first experience in a wood-bat college league.
"I'm looking forward to the routine," he said. "It seems like a pro schedule with a game pretty much every night. I can stay in a routine, and get my throwing in, I know we have a couple other OSU guys who I've hung around with all season and that's what I'm looking forward to the most."
He was a three-year letterman, a three-time Metro League all-star and the team MVP his junior year at Bishop Blanchet.