Seven Knights Earn All-West Coast League Honors.
August 31, 2010
Michael Blake, Mitch Haniger and Kyle Kraus Named First-Team All-WCL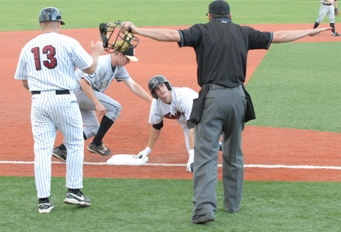 West Coast League president Ken Wilson announced the 2010 All-WCL teams this past Monday as selected by the league's coaches (by vote).
The Corvallis Knights and Wenatchee AppleSox were the two most represented teams with 7 players from each club earning honors.
The Knights (31-17) posted the WCL's best record for a third consecutive season while Wenatchee repeated as West Coast League champions by beating Bend in the WCL Championship Series.
Corvallis placed three players on the All-WCL first-team squad including 2010 Big West Freshman of the Year Mitch Haniger of Cal Poly (pictured sliding safely for a triple vs. Bend at Goss Stadium).
Haniger played a stellar centerfield and arguably made the catch of the summer vs. the AppleSox on June 29th at Goss Stadium. Mitch led the Knights in triples with 5 and walks with 22 while hitting .299 with 3 HR, 18 RBI and 11 stolen bases.
Joining Haniger on the first team were outfielder Michael Blake, a junior-to-be at Hawaii, and starting pitcher Kyle Kraus of University of Portland.
Blake led Corvallis in hitting with a .344 batting average, the third highest mark in the WCL. Blake also led the Knights in at bats with 163 and hits with 56 while stealing 10 bases and collecting 6 doubles, 1 HR and 19 RBI.
Kraus, a junior-to-be, earned first-team All-WCL honors for a second straight year with the Knights. Kyle went 5-1 with a 1.75 ERA and led the team in strikeouts with 40 and innings pitched with 46 1/3 despite missing the final three weeks of the season with an oblique injury.
Four Knights were named second-team All-WCL including junior starting pitcher Dustin Emmons of UC Riverside, frosh closer Mitch Patito of UC Riverside, frosh shortstop Matt Duffy of Long Beach State and junior first baseman Dylan Jones of Oregon State.
Emmons went 5-0 with a 2.43 ERA, Patito registered a team-leading 8 saves and struck out 25 over 22 innings pitched, Duffy recorded an impressive .951 fielding percentage while collecting 117 assists and Jones hit .336 with 9 stolen bases, 3 triples, 2 HR and 21 RBI while leading the team in doubles with 10, OBP with .449 and HBP with 17.
Senior-to-be Daniel Dillard of Western Oregon and Freshman All-American Matt Boyd of Oregon State were All-WCL honorable mention selections. Dillard led Corvallis in HR with 5, RBI with 25 and stolen bases with 13. Boyd recorded 4 saves and posted a 1.55 ERA while striking out 33 over 29 innings pitched.