Knights Win Third WCL Title.
August 21, 2013
Corvallis Ranked #3 in Final Perfect Game Crosschecker National Poll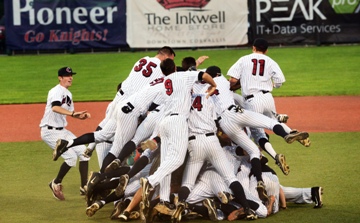 This year, they went the distance.
The Corvallis Knights completed one of the most successful seasons in franchise history on Aug. 19 when they defeated the Wenatchee AppleSox 1-0 at Goss Stadium to sweep the West Coast League's Championship Series and capture their third league crown in seven years.
The Knights won their final 14 games and avenged a 2 games to 1 loss to the AppleSox in the 2012 WCL Championship Series (WCLCS). And they earned the No. 3 spot in Perfect Game USA's final college summer baseball Top 50 poll, their highest-ranking ever.
Corvallis claimed the South Division pennant for the seventh successive year by six games over second-place Medford and Bend. They then swept Medford in the South Divisional Series to advance to the WCLCS for the sixth time in the past seven seasons.
Center fielder Blake Drake of Concordia and pitcher Jorge Perez of Grand Canyon were named summer All-Americans by Perfect Game USA. Drake was a second-team choice, Perez a third-team selection.
Catcher/outfielder Dane Lund was named the Knights' MVP by vote of the club's coaches and executives. Lefty Elliot Surrey of UC Irvine earned Top Pitcher honors, and the Anteaters' catcher/infielder Chris Rabago was the recipient of the Joe Segel Hustle Award for the second year in a row.
Pitchers Devon Barker of Central Washington and Brandon Choate of Tacoma CC, outfielder Blake Drake, third baseman Cody Lenahan of Portland and catcher Dane Lund were selected to the South Division squad to participate in the WCL's annual All-Star Game held this summer in beautiful Victoria, British Columbia.
Knights' skipper Brooke Knight was named West Coast League Coach of the Year for the fourth time. He previously was honored in 2008, 2009 and 2011.
Twelve Knights earned All-West Coast League recognition.
* Catcher Dane Lund, outfielder Blake Drake, shortstop Peter Van Gansen of Cal Poly and pitcher Elliot Surrey were first-team picks.
* Third baseman Cody Lenahan and pitchers Chris Bishop of PLU and Brandon Choate were second-team selections.
* First baseman Kevin Kline of Dixie State, outfielder Grant Melker of San Diego and pitchers Jorge Perez, Andrew Naderer of Grand Canyon and Casey Bloomquist of Cal Poly earned honorable mention honors.
Eight Knights made Perfect Game Crosschecker's list of the top 40 WCL pro prospects: Jorge Perez (Grand Canyon University), #2; Dylan Hecht (University of California, Santa Barbara), #3; Blake Drake (Concordia), #8; Andrew Naderer (Grand Canyon University), #11; Cody Lenahan (University of Portland), #14; Stephen Nogosek (University of Oregon), #16; Alex Nesbitt (Washington), #23; Chris Rabago (University of California, Irvine), #25.
Three Knights made Baseball America's list of the top 10 WCL pro prospects: Jorge Perez (Grand Canyon), #2; Blake Drake (Concordia), #3; Dylan Hecht (University of California-Irvine), #4.
Three Knights earned WCL Player of the Week honors.
* Pitcher Devon Barker was named co-WCL Player of the Week for June 5-9. He came within one out of throwing the second 9-inning no-hitter in franchise history against Cowlitz on June 9th before allowing a hit with two outs in the ninth. He struck out eight. He also threw three scoreless innings at Wenatchee on June 5; for the week he did not allow a run in 11.2 innings and had 13 strikeouts.
* Middle infielder Peter Van Gansen shared WCL Player of the Week honors for Aug. 5-11 by hitting .500 (9-18) with seven runs, two steals, six RBIs and a .571 on-base percentage in a 6-game span. He started that week by knocking out seven consecutive hits in back-to-back wins over Bend.
* Pitcher Jorge Perez capped the summer by earning top honors for Aug. 12-19. He won two playoff games, highlighted by an epic two-hit shutout of Wenatchee in the championship game that ended with a much anticipated dogpile. Click here to watch Jorge getting buried in Knights and check out Perez getting interviewed by Gazette-Times videographer Graham Kislingbury.
Corvallis shattered its year-old WCL stolen base record (105) by swiping 149 bags, more than double the second-place team in that category. Outfielder Grant Melker led the WCL with 26 steals; Lund tied for second with 25 and Drake was fourth with 20.
The Knights also established a new attendance standard, as 43,529 fans flocked to Goss Stadium on 33 dates, an average of 1,319 per opening, another record. That easily broke the old mark of 42,447, set in 2011.
These Corvallis Knights gave no indication in June that a spectacular summer was in the offing. They lost 2 of 3 games in road series against Wenatchee to open the season, spent a short stay in the South cellar early with a 2-5 record and closed out the month by being swept by Kitsap for the first time in team history. In fact, the BlueJackets, who finished with the WCL's worst record, won the regular-season series with the Knights 4-2.
On July 1, the Knights were 12-12 in league play and in danger of not making the playoffs for the first time in franchise history. However, at that point the lights came on and from then on they were an unstoppable machine.
Corvallis climbed back into South Division contention by winning 8 of their next 9 WCL games against Bellingham, Wenatchee and Walla Walla. They dropped 2 of 3 at Bellingham, but responded sweeping Medford and Victoria in their first two series after the all-star break.
The Knights then unexpectedly dropped 2 of 3 at Kelowna, the last-place team in the North Division. The second loss came on Aug. 1; they would not be beaten for the remainder of the season.
They swept Kelowna in the return series at Goss Stadium, and then clinched the South Division title by taking three straight from Bend on Aug. 5-7 in their final regular-season home series. They completed the regular season with a 10-game winning streak following a nonleague win over the Portland Lobos U-19 select team and a sweep at Klamath Falls.
Nothing changed in the playoffs as the Knights stayed hot. Corvallis eliminated Medford 8-6 and 7-3 in the divisional series, and swept Wenatchee 3-1 and 1-0 in the WCLCS to earn their third title to complement their 2008 and 2011 championships.
The #3-ranked Knights had many other highlights:
* They won 40 games for the fourth time in history (46-17) by going 37-17 in WCL games, 5-0 in nonconference games, and 4-0 in the playoffs.
* Lenahan tied for second in the WCL with a team-best 36 RBIs and led the league in triples with 4. First baseman Kevin Kline was fourth in RBIs with 34.
* Lund was sixth in the WCL with a .343 average despite playing the final month with an injured hand. Lenahan (.314), Van Gansen (.310) and Kline (.302) also finished above the coveted .300 mark.
* Late addition Kavin Keyes of Oregon State hit .304 with 6 RBIs over 23 regular-season at bats and went 9-for-15 in the playoffs giving the Knights a late-season and post-season offensive boost.
* Van Gansen was spectacular in the field, posting a .988 fielding percentage. The slick-fielding shortstop and second baseman made only two errors all summer.
* Blake Drake proved to be the best defensive outfielder in the WCL as the junior-to-be made several game-changing catches in center and tied for the league-lead in outfield assists with 8.
* Lefty Elliot Surrey led the WCL with a 1.27 ERA and went 6-1 overall (5-1 in the regular season and 1-0 in the post-season).
* Corvallis led the WCL with a 2.81 team ERA.
* Surrey led the team in overall wins with 6 followed by Chris Bishop and Sean Eberhardt of George Fox with 5. Jacob Schroeder of Washington State, Casey Bloomquist and Andrew Naderer each won four games.
* Perez had a team-best six saves before joining the starting rotation. Choate then assumed primary closing duties and finished with five saves.
* The July 3 Fireworks Night sold out (2,930) for the fifth consecutive year. The Knights cracked the 2,000-fan barrier on three other home dates and drew more than 1,800 fans to their annual nonleague game against the Albany Mid-Valley Rockets American Legion team.
* Thirteen Knights' alums were selected in the 2013 Major League draft.
* The hometown team was 30-4 at Goss Stadium and finished the season with a 21-game home win streak.
The WCL will again have a new look next season, as an expansion franchise in Yakima will give the circuit an even dozen clubs. The 2014 schedule will be unveiled sometime this fall; the All-Star Game will be in Klamath Falls.
The Knights will begin signing players for next season in September. Several players from the 2013 team are expected to return for another summer in Corvallis.