Bring the Energy.
June 17, 2016
Coach Yoon Makes Knights Better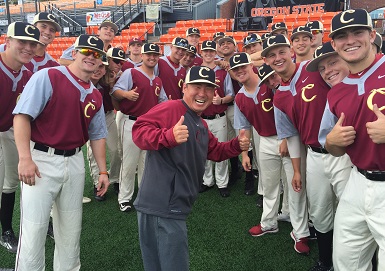 The Corvallis Knights commitment to player develop has gone international with the addition of assistant coach Youngjin Yoon of South Korea (pictured with the Knights) for the early stages of the season.
An assistant at Riverside City College during the academic year, Yoon has worked with the Knights since June 1 to enhance their strength and conditioning and baseball skill set development. He will return to Southern California after this weekend's series with Kitsap.
A veteran of 10 seasons with the Lotte Giants in South Korea's equivalent of Major League Baseball, Yoon has worked in the United States since 2009, mentored by former RCC head coach Dennis Rogers, a longtime supporter of the Knights and the Southern California half of the pipeline that has sent RCC standouts Tommy Hanson, Chris Stewart, Richie Jimenez, Robby Hudson, Austin Sodders and others to the Knights over the years.
"I focus on speed, and the body loosening up and the body being stronger," Yoon said, through flexibility, balance, body control, quick twitch, rhythm, tempo, mental conditioning and breathing exercises, and an overall focus on better dietary habits and health.
One could call it a hybrid philosophy that merges the conventional power pitching approach used in American baseball with the precision and detail-oriented style popular in Southeast Asia.
"Body care, arm care, mental care, mental conditioning," Yoon said. "A lot of young guys are very emotional," and the breathing and concentration skills he teaches can help them eliminate the peaks and valleys and find the steadiness necessary to succeed in an every-day, grind-it-out sports like baseball.
"Keep them healthy. That's my number one baseball philosophy," Yoon said. "I tell the guys, 'When you are healthy, happy baseball, happy life. When you are unhealthy, unhappy in baseball, unhappy in life.'"
Yoon first came to Corvallis two years ago, accompanied by former RCC pitching coach Rolando Garza [now at Pepperdine] after Rogers recommended the pair to Knights president Dan Segel.
"They worked with our pitchers, and they loved it," Segel said. "Yoon adds additional value to the Knights experience by working with the kids in the mental approach to the game.
"He gets them in a good mental state, and they really seem to enjoy his work. He also is working hard with the players on flexibility," through yoga and Pilates. "Those are the two biggest things we're benefitting from.
"It's an added benefit. It's a commitment to development, as Yoon would say. He comes at it with a holistic approach. He is very positive and I think he's an outstanding role model.
"It's been great having him. I call him Master Yoon. He's the best."