Ex-Knight Leads Oregon to First Place in Pac-12 and #6 National Ranking.
May 16, 2012
Ducks' Closer Jimmie Sherfy Collects Three Saves in Sweep of USC.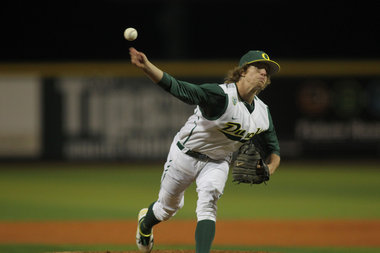 Jimmie Sherfy's successful spring with the University of Oregon baseball team didn't just materialize overnight.
The foundation to his record-setting season with the Ducks was built last summer, in the bullpen and on the mound at Goss Stadium during his two-month stay with the Corvallis Knights.
"It's crazy," Sherfy (pictured) said Wednesday. "It's one of the biggest reasons for the season I'm having. I give a lot of credit to the Knights and to [pitching coach] Connor Lambert. They showed me what I was doing before wasn't working.
"They showed me how to be successful and gave me the confidence that what I had was good enough and that I could get the job done."
He's gotten the job done, and then some, for Oregon (38-14, 19-8) which has won five straight, and 11 of its last 12, heading into this weekend's nonconference series against Seattle at PK Park.
The overpowering array of pitches emanating from his lithe (5-10, 150 pounds) frame have resulted in a school-record 16 saves and 78 strikeouts in only 51 innings. His stellar closing has fueled Oregon's charge into first place in the Pacific-12 Conference and into the top 10 in the five major college baseball polls.
It's also generated considerable personal recognition for a player who made only two token appearances for the Ducks as a freshman.
* He was named Pac-12 Pitcher of the Week on Feb. 21 for his performance in a season-opening series win at Hawaii. He stuck out 13 in 5.2 shutout innings and got the decision in a 3-2 win on Feb. 18, Oregon's first victory of the season.
* Sherfy's also been named to the midseason watch list for the National Collegiate Baseball Writers Association Stopper of the Year award, which goes to the top Division I reliever, and to the College Baseball Foundation's National Pitcher of the Year watch list.
* Sherfy has been selected to play for Team USA this summer. Team USA will play nine games at its National Training Complex on Cary, N.C., and at the Durham Bulls Athletic Park from June 25-July 3 before embarking on a five-game series at Latin American Stadium in Havana, starting on July 5.
From there, the club will play at the Honkbal-Haarlem Baseball Week in Haarlem, The Netherlands, from July 14-22. Team USA will play Japan, Cuba, Puerto Rico, Chinese Taipei and The Netherlands, and other national teams.
Sherfy said the personal plaudits are nice, but winning is better. "Our team chemistry is crazy," he said. "This is the most fun team I've ever been on."
Lambert and Oregon coach George Horton credit Sherfy's transformation from a spare part into a staff keystone to an improved work ethic. It surfaced last summer during the Knights stretch drive to the West Coast League championship, and carried over into Oregon's offseason and preseason workouts.
"The biggest and most evident thing [we] worked on last summer was his mental game," Lambert said. "We had to completely break down every aspect of his preparation, from his routine before the game and during it, to his routine on the mound.
"It's easy to have a routine/mentality on the mound and off the field when everything is going your way. For a majority of Jimmie's outings that's exactly what happened because he is so talented.
"However, those times when he didn't have his best stuff, or when his best stuff was getting beat, was when we saw Jimmie grow. What I tried to instill into Jimmie was to trust his routine and continue to attack with all of his pitches.
"Jimmie can throw a 95 MPH fastball but his biggest pitch came on a 3-2 slider with the bases loaded late in a playoff game against Bend, striking out the batter looking. Ultimately this showed me the maturity and confidence Jimmie had created in himself. That could not have been accomplished without proper routine and preparation."
Horton told the Eugene Register-Guard it was obvious Sherfy didn't like being a "secondary pitcher" as a freshman, and he returned to school last fall ready to dramatically upgrade that status.
"The single most important thing Jimmy did was work as hard as anybody we have," Horton said. "He's taken a little bit of frustration, [and said], 'Here's what I'm going to do about it. I'm not going to whine and complain about it. I'm going to physically do something about it,' and it's paid off in a big way."
Sherfy saved all three wins against USC this past weekend and has nine saves and a victory in 16 Pac-12 appearances. He's appeared in more than half of Oregon's conference (16-27) and overall (27-52) games.
"My arm [is] pretty shot right now. It's sore," he told The Oregonian after Monday's save, his fourth in a six-day span. "But it will be alright after a couple of days, so I'll be fine."
Jimmie was 1-0 with a 1.83 ERA in 14 total appearances for the Knights in 2011. An injury sidelined him from June 17 through July 13, but after his return he was nearly unhittable. He was ultimately rated as the #9 WCL pro prospect by Baseball America magazine.
Sherfy did not allow an earned run in his final 14.1 innings, spaced over 10 appearances. He had 20 strikeouts and allowed just eight hits in that span and he capped the summer with five strikeouts in three scoreless innings in three playoff appearances.
"Jimmie was constantly working at his craft, always looking to get better," Lambert said. "He suffered an injury in the middle of the summer that most athletes would have just shut down for the rest of the season.
"I think Jimmie knew how good he could be. Because he got such limited innings his freshmen year, he was itching to get on the mound and stay on it; he wasn't going to let an injury set him back.
"The spring he's having is a tribute to his will to be better, and the hard work that he put in last summer."