Knights Restructure Front Office.
December 16, 2016
Bre Miller and Holly Jones to Assume New Corvallis Roles; Team Introduces Miller as President/GM, Jones as COO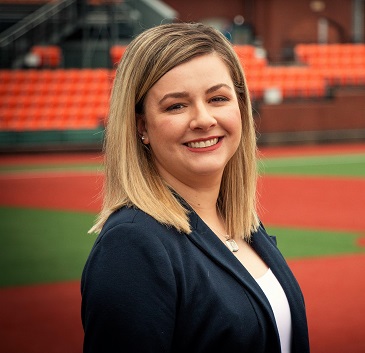 The Corvallis Knights have reconfigured their management team to better serve the best fans in the West Coast League.
Former team president Dan Segel is now the Chief Executive Officer of Knights Baseball Club, Inc. Bre Miller has been promoted to President/General Manager and Holly Jones (pictured) to the Chief Operating Officer of the Corvallis Knights.
Miller had served as the General Manager since Aug., 2012. Jones had served as the Senior Vice-President of Operations since Jan., 2015.
The changes are effective immediately.
"This is an exciting time for Knights Baseball Club and the Corvallis Knights," Segel said. "Coming off last summer's magical season, we couldn't be more pleased with where we are at and the direction we are headed.
"We feel we are well-positioned to take the next steps to take things to the next level. We're hopeful Bre and Holly will do just that. They have the full support of Knights Baseball Club.
"They have the seasoning and expertise to do great things for the team and the community; and ensure that the Knights are a Corvallis institution and viable for decades to come."
Segel will oversee all Knights Baseball Club business and activities. He will serve as the Chief Financial Officer and brand manager of the Corvallis Knights, and manage all team baseball operations and baseball partner relations.
His focus will be on Knights Baseball Club, Inc. new business projects and growing the club's involvement in its communities.
Miller and Jones will be responsible for the Corvallis Knights business, and staffing.
Miller will oversee all sales and service activities, merchandising, community/partner relations, game day entertainment, office management and the host family and intern programs.
"I am beyond excited for this opportunity to lead the Corvallis Knights to another level of success alongside Holly Jones," said Miller, an Oregon State graduate who has served in a number of management roles since joining the team as an intern in 2007, its first summer in Corvallis.
"We both started as interns with the team more than a decade ago, and it is thrilling to be a part of our team's continued growth. This is an amazing opportunity for both of us!"
Jones will oversee all marketing activities, ticketing operations, food and beverage operations and WCL relations.
"It has been an honor being back with the Corvallis Knights organization, and I am grateful for this exciting opportunity," said Jones, a University of Oregon graduate who first worked for the team as an intern in 2005 and 2006, and 2007 as the assistant to the president.
"We are fortunate to have such a supportive community. I am eager to see how we can continue to grow together as we start our second decade in the Mid-Willamette Valley."
Miller and Jones were the first female general managers in the WCL, Miller with the Knights and Jones with the Victoria HarbourCats in 2013.
"We're confident Bre and Holly will thrive in their new leadership roles," Segel said. "They will keep fans and partners enthused about the Knights and looking forward to affordable family fun each and every summer."