Corvallis Native and Former Knights' Intern to Further Sports Marketing Career in Valley of the Sun.
November 13, 2013
Megan Murphy Goes to Work for Arizona State as Group Events Consultant.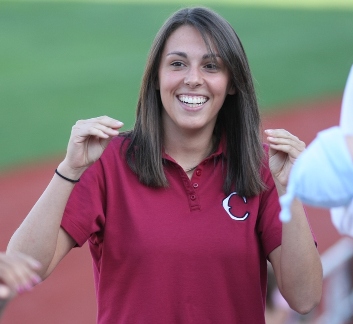 Megan Murphy's address has changed from the Willamette Valley to the Valley of the Sun, but she's still employed in an industry she loves.
After two seasons working in minor league baseball, the former Corvallis Knights intern (2008, 2011) recently accepted a position in the Phoenix area as a Group Events Consultant with the Arizona State University athletic department.
"My responsibilities include booking halftime, pre-game and in-game performance groups for all sports, assisting with marketing plans for ASU Gymnastics, creating relationships between ASU and nonprofits, and selling season tickets," she said in describing what her new position entails.
"I'm very excited to be back in college athletics. A huge reason I took this job was to be around the college athletic environment again."
A Corvallis native and a 2007 Corvallis High School graduate, Megan first worked with the Knights after her freshman year at Oregon (2008). She returned in 2011, after graduating with a degree in sports business and following a summer working for the Eugene Emeralds. Her parents, Mike and Mary, are long-time Knights' season-ticket holders.
She also assisted the Oregon baseball program for three years as an undergrad.
Megan then worked in the front office of the Bakersfield Blaze, Cincinnati's affiliate in the Class A California League, in 2012 and 2013. She did just about everything for the team, as is typical in minor-league organizations.
"I wore pretty much every hat," she said. "My title was Director of Groups and Events, but I was also the Director of Ticketing, Director of Community Relations, and I did the human resources for our game-day employees.
"It was a great learning experience for me, and I really enjoyed my time there."
Murphy was hired by ASU shortly after the baseball season. Her responsibilities with the Sun Devils are more specific.
"I work closely with marketing," she said. "It's been very helpful for me to bring my marketing and promotions experiences I learned with the Knights, to Arizona State University Athletics. A lot of my promotions ideas originated from my time with the Knights."
She'd like to keep working in the athletics business for as long as possible.
"My short-range goals are to continue to progress at the collegiate level, but I would not say no if an amazing opportunity within the baseball industry came my way," she said. "I really enjoy marketing as well as event management within the sports industry."