Knights Unveil 2017 Roster.
January 2, 2017
Corvallis Returns 10 from Championship Club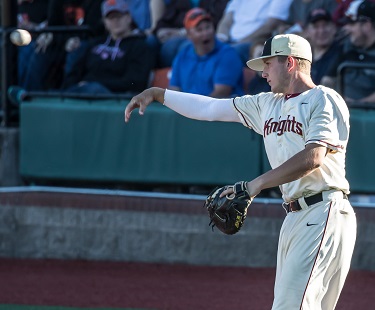 The Corvallis Knights unveiled their
2017 roster
, which features 10 returning players from the club's 2016 WCL championship team.
Second-team all-WCL catcher Zak Taylor of Oregon State (pictured) returns as does all-WCL honorable mention pitchers Jacob Fricke of Western Oregon, Grant Goodman of San Francisco and Aaron Pope of Dixie State; and outfielder Emilio Alcantar of Lewis-Clark State College.
This will be Alcantar's third summer in Corvallis. Following his sophomore year at Linn-Benton CC, the left-handed hitting catalyst led the 2015 Knights in hitting with a .312 batting average. Alcantar redshirted last spring at LC-State. He is a two-time all-WCL honorable mention selection.
Other returnees are junior pitchers Ty Fox of Sacramento State and Tanner Howell of Dixie State; frosh pitcher Louis Crow of San Diego; and sophomore right-hander Cameron Richman of University of Portland.
Also returning is infielder Matt Kelly of Portland, a key performer in the WCL playoffs last season. Kelly hit .316 in the postseason and is slated to start at third base for the Knights in 2017.
Like last summer, the Corvallis pitching staff is loaded with southpaws. Ten left-handers are on the roster including Fricke, Pope, Tanner Cantwell of Treasure Valley CC, Austin Crowson of Lane CC, Cason Cunningham of Linfield College, Alec Daily of Cal State Bakersfield, Miles Glazier of UC Irvine, Jordan Horak of Portland, Cole Johnson of Pacific Lutheran and Kolby Somers of Century High School.
Cantwell was a first-team All-NWAC Eastern Region selection last spring. Crowson, a sophomore, is a draft prospect from nearby Monroe, Oregon. Cunningham went 5-1 with a 2.73 ERA as a frosh last spring. Daily red-shirted last season after leading CSBU in appearances in 2015. Glazier made 26 relief appearances as a frosh in 2016. Horak made 14 starts last spring as a sophomore striking out 61 over 62 innings pitched. Johnson is a Washington State transfer who went 5-4 and tossed 87 innings as a soph at PLU. Somers, a draft prospect from Century HS in Hillsboro, is an Oregon commit.
The pitching staff is rounded out by right-handed newcomer freshmen Kaz Akamatsu of UC Irvine, Zak Herbers of Nevada-Reno, Connor Redmond of Cal Poly and Cole Spear of UC Irvine; and red-shirt sophomore Trenton Toplikar of UC Riverside, sophomore Alex Perron of College of Southern Idaho (Pepperdine commit) and incoming frosh Darrin Nelson of Granite Hills HS, a Cal Poly commit.
The roster's infield features Kelly, frosh infielder Jack Kuzma of Cal Poly, freshman second baseman Tyler Malone of Oregon State, incoming shortstop Chad Stevens of Gig Harbor HS (Portland commit) and freshmen slugging first basemen Gabe Matthews of Oregon and Dillan Shrum of Nevada-Reno.
The outfield is made up of Alcantar, frosh center fielder Tyler Villaroman of San Francisco and freshmen corner outfielders Henry Cheney of Portland and Elliot Willy of Oregon State. Willy played for the Bend Elks last summer.
Zak Taylor of OSU and Jace Duty of Chemeketa CC are the Knights catchers. Duty earned first-team all-NWAC Southern Region honors last spring as a frosh.
The roster also features several 10-day signees including junior infielders Andrew Barrera of Concordia, Kyle Esquerra of George Fox, Kody Matthews of Marshall and Luke Wilkinson of NW Missouri State; and sophomore catcher Jacob Bockelie of Pacific Lutheran. Barrera, Esquerra and Matthews will work towards winning a middle infield roster spot while Wilkinson looks to earn a spot at third or first base.