Domingo Ayala Makes Goss Stadium Appearance.
June 16, 2014
Corvallis Knights Third Baseman Jackson Soto of West Albany Named Reser's All-Star Series MVP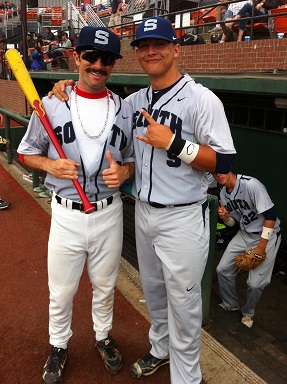 Baseball funny man Domingo Ayala made a visit to Goss Stadium on Saturday, June 14th as he entertained North and South all-stars at the Reser's Oregon All-Star Series and the Corvallis Knights before their game versus the Walla Walla Sweets that night.
Domingo started his day as a North player, taking batting practice and infield/outfield before game one of the Reser's All-Star Series. He was not in the lineup, but supported his guys from the dugout and even made a mound visit to lighten things up for South starting pitcher Chase Kaplan of Hillsboro.
Between games, Ayala was approached by Corvallis Knights skipper Brooke Knight and offered a contract. Domingo promptly signed and switched allegiances joining the South team as an assistant coach.
Ayala coached third base for a few innings for the South, and credited himself for the two runs scored during his time in the third base box.
Following the game, Jackson Soto of the Knights (pictured with Domingo), an OSU commit from West Albany High School, was named the Reser's All-Star Series MVP. Jackson tripled and homered and played gold glove defense at third base.
Domingo continued his baseball ascension by addressing his new Knights' teammates before the game with a stirring speech.
Coach Knight's lineup featured Ayala as the designated hitter and four-hole hitter. But Domingo did not get an at bat as he was pulled from the game by Knight as he entered the batter's box because he was no longer eligible to play in the West Coast League. The reason being, he had signed a professional contract with a big league club.
He told his teammates as he left, 'I got picked up by a scout'.
Ayala went from an aspiring high school player from Puerto Plata to Aloha High School phenom to Reser's All-Star to college player to the pros - all in one day!
To hear Ayala's post-game interview with the voice of the Knights - Alex Kuhn - click here.