UC Santa Barbara Outfielder/First Baseman Dalton Kelly Heats Up.
July 8, 2014
Kelly Knights' Hottest Hitter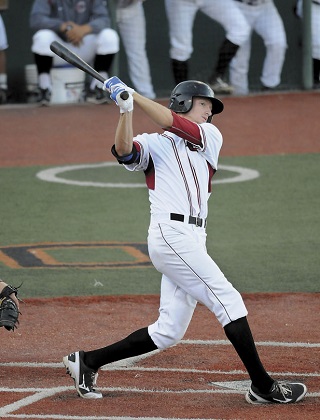 All Dalton Kelly (pictured last night vs. Medford) wanted was a healthy back, and the chance to show what he could do when given an opportunity to play every day.
He's had both this summer, and the Corvallis Knights are reaping the rewards. The rising junior at UC Santa Barbara has been the Knights' hottest hitter in July, heating up in conjunction with the arrival of summer in the Willamette Valley. Kelly hit .500 (12-24) in his first six games this month, with three homers, two triples and 12 RBIs.
He's tripled his average from .111 on June 30 to .333 following a two-hit, four-RBI performance in a 9-8, 12-inning triumph over Medford on July 8.
"I think the biggest thing is I'm getting an opportunity to play, every single day. I'm getting a lot of reps," the 6-foot-3, 180-pound lefty from Redding, Calif., said recently.
"It helps you get in the zone as a hitter.
"Seeing pitching every day, you start feeling comfortable playing and you start to gain confidence as a hitter. You feel like you're going to get a hit every time you step into the box, instead of questioning your ability."
Kelly hasn't hit safely in every at-bat during his six-game hitting streak, but he's been extremely productive. He had five hits on July 1-2 in the final two games of a home series against Medford, then homered in three straight games, had five RBIs and scored eight times in the July 3-5 series at Klamath Falls.
That's quite a change from his sophomore season with the Gauchos, when a tight back that has bothered him for more than a year limited him to just two hits in 13 at-bats over 11 games. That was an unexpected comedown from his freshman campaign, when he hit .244 with nine RBIs and had a .333 average with runners on base and a .429 mark with runners in scoring position.
"I've been struggling with a back injury off and on since last summer," when he played in the Alaska League, he said. "It's been hard for me to put together a string of healthy weeks so I could stay on the field.
"Now, it's nice to know I'm going to get an opportunity every single day, or at least most days. I get to compete with my team, hopefully put some W's on the board for the Knights."
Knights' coach Brooke Knight said it's been a "neat time" for Kelly, a three-year letter winner at Foothill High in Redding who was All-League and All-Section, led the Cougars to the 2012 Section Championship and earned Student-Athlete of the Year and State Scholar Athlete of the Week honors from ESPN in 2012 before heading down to UCSB in the same recruiting class as current Knight Joe Duffin and 2013 Knights' reliever Dylan Hecht.
"It has been fun to watch his progression," Knight said. "His back has finally loosened up for him where he could swing effectively. He's got a lot of confidence in himself and in his plate approach.
"It's shining through with the way he can be on time with the barrel, and hit the ball to all fields. He turned around a couple at Klamath Falls that we hit really well. He runs well, he's smart, he's an exceptional first baseman, he can bunt a little bit and has a good feel for the game."
He also has a good feel for Corvallis. Duffin, Hecht and 2012 Knights MVP Greg Mahle all said he and teammate Scott Quinlan would enjoy their summer in Corvallis and so far it's been as advertised.
"They said this is the best place to play summer ball in the entire nation. Fan-wise, organization-wise, opportunity-wise, field-wise, everything is top-notch," Kelly said. "Scott and I have not been disappointed a single day.
"It doesn't get better than this; 85 degrees every day, a sold-out stadium on Fireworks nights. It's the coolest thing."