Intern Earns Highest Team Honor.
October 5, 2015
Knights' Community Relations Intern Anna Seydel Named 2015 Staff Member of the Year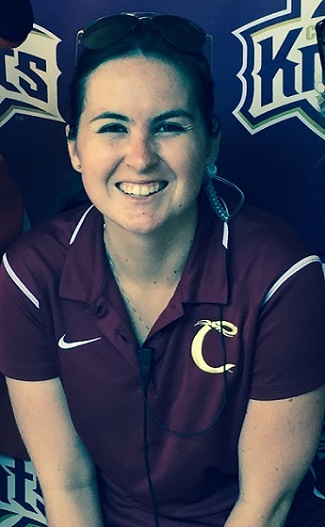 Corvallis Knights general manager Bre Miller announced that Knights' community relations intern Anna Seydel has been named the team's Staff Member of the Year for 2015.
Seydel (pictured) was honored for her extraordinary efforts managing the Corvallis Knights Reading Club presented by Kettle Chips and the Knights' presence at over 60 community events this past year. The Reading Club was launched in early 2015 and grew to 14 participating schools impacting more than 4,000 area children.
"The impact of our intern team was truly next-level, and it seemed only fitting that an intern be named this season's Staff Member of the Year," Miller said.
"We picked Anna because of her dedication to her community relations role and her growth over the course of the year was incredibly inspiring.
"She quickly became one of our leaders this summer. While we had many interns shine, Anna is undoubtedly deserving of this honor."
Seydel is a senior this year at University of Oregon and is studying Journalism with a concentration in Advertising.
Anna Seydel joins Brooks Hatch (2014), Lil' K and Mack the Knight (2013), Jeremy Ainsworth (2012), Bre Miller (2011), Doug Blair (2010), Brian Brooks (2009), Stro Strohmeyer (2008) and Holly Jones (2007) as Staff Member of the Year selections.
Miller also shared that the team was introducing new individual awards to recognize high-performing interns.
"Our interns are amazing, and we felt it was time to start recognizing outstanding intern performance at season's end," said Knights' senior vp of operations Holly Jones. "With that said, we are thrilled to launch a recognition program that honors several students for exceptional contributions and efforts."
The award names were coined by Miller and Jones and are named after Knights' front office personnel. They also highlight key traits worthy of recognition.
The Penny Knight Perseverance Award went to Megan Kelsch of University of Oregon. Megan is a product of South Albany High School and was the intern responsible for marketing & advertising this past season, with a focus on social media and game day promotion.
"Our social media performance was best-of-breed thanks to Megan's efforts and commitment to implementing best practices," said Jones. "Megan was highly engaged from start to finish, and she battled through some adversity to consistently deliver great work."
Ticketing operations intern Megan Phipps, a recent graduate of Oregon State University, was the Dan Segel Determination Award recipient.
"Megan was a determined intern who made a great impression," said team president Dan Segel. "She's passionate about tickets and made us better."
Mascot handler intern Brick Jennings of Corvallis High School took home the Bre Miller Bravery Award.
"Brick was not afraid to take on any assignment," said Miller. "We could count on Brick and we loved his attitude and infectious smile."
Team statistician and community & media relations intern Melissa Sullivan, a junior at Oregon State, was the Knights' pick for the Holly Jones Hustle Award.
"We all appreciated Melissa's hustle, work ethic and intensity," said Jones. "She was an all-purpose star for the team and someone we counted on for so much. She is so deserving of this honor and we were so fortunate to have Melissa on our team."
The Corvallis Knights are currently assembling their 2016 staff. If you have interest, please contact Holly Jones at 541.752.5656 or email Holly at [email protected]