Knights Introduce New Apparel Line.
March 11, 2011
Nike Merchandise Now on Sale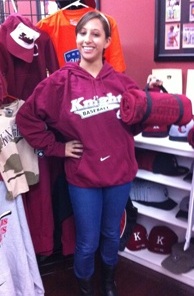 The early reviews are in, and they're uniformly positive.
Sponsors, host families and season-ticket holders of the Corvallis Knights were treated to a sneak preview of the team's 2011 line of Nike clothing last week and they raved about the new gear.
"I really like the new apparel - pretty sure I'll have to have some more!" said season-ticket holder Mary Murphy, one of about 40 fans to attend the event.
Merchandise interns modeled the wide variety of cardinal, white and gray cotton tees, hoodies and crew sweatshirts, and several new styles of caps (pictured is intern Andrea Rodriguez).
They are now available online, click here to check out the new offering, or browse in person at the Knights' office in Madison Plaza in downtown Corvallis.
"I think everyone was really excited about the new Nike gear," merchandise intern Jenny Baker of OSU said. "Everyone really liked the sweatshirts," which come in hoodie or crew-necked styles.
Gear will also be available at a special Joe Beaver Show remote broadcast at the Knights' downtown office on May 18, and at all home games and soon at the Hilton Garden Inn Corvallis.
The merchandise stand will be relocated to the plaza outside Goss Stadium this season, creating a larger display area and making it more accessible and convenient for prospective customers.
The Knights elected to upgrade their apparel quality and selection after the 2010 season, president Dan Segel said. The designs were selected from Nike's exclusive MiLB catalogue collection.
"Our merchandise offering is much better, the new minor-league designs from Nike are exciting," said Segel. "I think our fans will like all the new stuff. We hope all our fans 'get Knighted' and sport the new wear around town."
The new merchandise is now on sale, both online at corvallisknights.com and at the team's downtown office on 4th and Madison.
The latest Knight Show, now posted at corvallisknights.com, captures the fun of the Knights' merchandise event held Thursday, March 3rd at the Madison Plaza in downtown Corvallis. Click here to watch the video.