Hatch Earns Team Honor.
December 31, 2014
Director of Media Relations Brooks Hatch Named 2014 Staff Member of the Year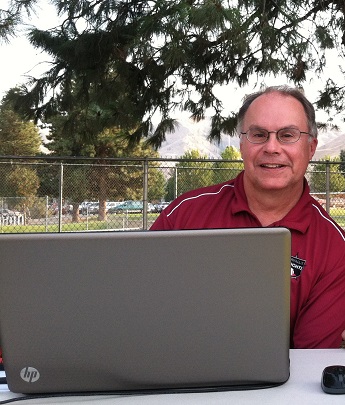 Director of Media Relations Brooks Hatch has been named the Corvallis Knights Staff Member of the Year for 2014, general manager Bre Miller announced.
Hatch (pictured) was honored for his news stories, blogs, newspaper reports and other correspondence that keep our fans informed about the team 12 months of the year.
"We are proud to announce Brooks Hatch as our Staff Member of the Year for 2014," Miller said. "Brooks has been a big part of the team since it relocated to Corvallis in 2007 and does his best work writing about baseball.
"This past year he took to a new role with the team and continued performing at a high level. Our coverage in the local paper is outstanding thanks to Brooks.
"We appreciate his passion for the game, and for this community. He's a baseball fixture in Corvallis."
Hatch's relationship with the Knights dates back to their 2007 relocation to Corvallis from Gresham. He covered the team for the Corvallis Gazette-Times newspaper from 2007-10, and then joined the front office in 2011 and worked for three seasons as the full-time Director of Media Relations.
Last season he moved to part-time. He also works as an Athletics Communications Assistant/Director of Writing with the Oregon State athletic department.
"Covering, and then working, for the Knights has been a real highlight for me over the past eight seasons," Hatch said. "I'm looking forward to 2015 and another great summer working with a special organization."
He worked as a sports reporter for 34 years, the last 26 of which were spent at the Corvallis Gazette-Times before joining the Knights in Jan., 2011.
A native of the Buffalo suburb of East Aurora, N.Y., Hatch played baseball and soccer at East Aurora High School and graduated from the University of Richmond (Va.) in 1976. He worked at the Minot (N.D.) Daily News from 1976-79 and at the Bismarck (N.D.) Tribune from 1979-84 before moving to Corvallis in Oct., 1984.
Brooks and his wife, Margi Dusek, have a son, Owen, a student at Crescent Valley High School in Corvallis.
Hatch joins Lil' K and Mack the Knight (2013), Jeremy Ainsworth (2012), Bre Miller (2011), Doug Blair (2010), Brian Brooks (2009), Stro Strohmeyer (2008) and Holly Jones (2007) as Staff Member of the Year selections.