Knights Unveil 2012 Promotional Schedule.
March 18, 2012
Famous San Diego Chicken to Make Return Appearance at Goss Stadium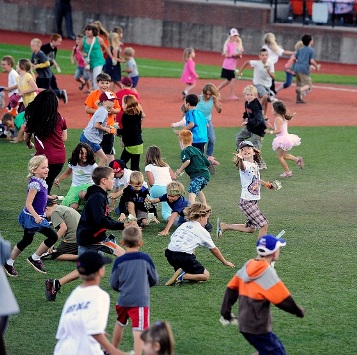 Return visits by the Famous San Diego Chicken, and the popular ZOOperstars!
Six Block 15 Thursdays; two Fireworks Nights, Dashes for Cash, and a pair of Bi-Mart $2 Tuesdays. A bobblehead night commemorating Chicago White Sox third baseman Brent Morel, the first Corvallis Knight to play in the major leagues.
Yes, all those attractions, and many, many more, are included in the promotional schedule the Corvallis Knights unveiled for its sixth season at Goss Stadium, which begins June 5 when the Knights entertain the Klamath Falls Gems.
The cleanup hitter in that promotional lineup is a Corvallis rite of summer, the annual OSU Federal Credit Union Fireworks Night. This year's pyrotechnics are scheduled for July 2, when the Knights host the Kitsap BlueJackets. The last three holiday Fireworks Nights were sellouts, and the 2009 edition drew a franchise-record crowd of 3,506 fans.
Another marquee attraction is an encore performance by the hilarious San Diego Chicken, one of the most popular and recognizable mascots in sports. He thrilled Knights' fans in his first visit last summer; this year's performance is set for Friday, June 15, when the Knights host the Walla Walla Sweets in a rematch of the 2011 West Coast League Championship Series.
"We think we've lined up our best promotional schedule ever," Knights' president Dan Segel said. "The San Diego Chicken is a sports legend. ZOOperstars! and fireworks are fun for the entire family, and our fans can help create even more fun on our theme nights.
"They're just part of a lineup that should help make 2012 our biggest and best summer in Corvallis and make Goss Stadium a summer destination for fans throughout the Mid-Valley.
"We remain dedicated to providing great entertainment that's affordable for the family."
All 31 home dates (32 games) have some sort of promotional tie-in, from giveaways to appearances by the Chicken and ZOOperstars! to reduced admission to special reduced concession prices (including eight $1 hot dog nights), or a combination of the aforementioned.
"Everyone can find something special at the ballpark every night, throughout the summer," Segel said.
The team's annual free Youth Clinic, sponsored by Starker Forests, is set for 9 a.m. until noon on June 30. It will be followed by the Knights' Alumni Game, starting at 2 p.m.
Other noteworthy events include:
* Big League Chew Opening Night on June 5. The first 250 fans through the gates get a pouch of Big League Chew, pack of Knights' trading cards and a Corvallis Knights 2012 magnet schedule.
* ZOOperstars! on July 22.
* Twilight Twi-Night, a "Twilight"-themed doubleheader on July 21 that will also feature a pre-game Blood Drive administered by The American Red Cross.
* Block 15 Thursdays on June 14, June 28, July 12, July 19, July 26, and August 2.
* State Farm Insurance Rally Towel Night, set for July 26.
* Two Kids $1,000 Dash for Cash Nights, on June 22 and August 3.
* Cap Night presented by the Mario Pastega House, on July 27.
* Seat Cushion Giveaway Night presented by Barker-Uerlings Insurance, on July 19.
* Wilson Motors Night on July 25, with free general admission tickets available at the longtime Corvallis automobile dealership.
* Pioneer Telephone Fireworks Night, set for the August 4 regular-season home finale.
For a complete list of the promotional schedule, click here.