Stewart and Knights Form 'Stew's Crew' with Boys & Girls Clubs of Greater Santiam.
April 5, 2013
Member Kids From Lebanon, Sweet Home Can Earn Reserved Tickets to Every Home Game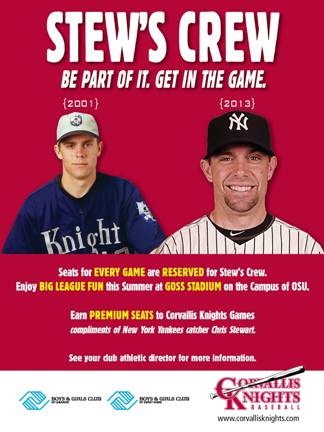 New York Yankees catcher Chris Stewart (pictured), the MVP of the 2001 Aloha Knights, will take young Linn County baseball fans out to the ballgame this summer.
Stewart and his wife, Lindsey, have purchased six reserved 2012 Knights season tickets to form "Stew's Crew." The tickets will be donated to the Boys & Girls Clubs of Lebanon and Sweet Home, and then distributed to club members to reward positive behavior and activity. "Stew's Crew" attendees will be recognized at all games.
"My parents rewarded me for achievements throughout my childhood, and in doing so motivated me to become a responsible adult," Stewart said in announcing the program. "I have had a blessed career, and want to share that blessing with today's youth.
"Through the Corvallis Knights, my family and I wish to offer an entertaining evening for those who take advantage of the Boys & Girls Club's Passport to GREATness program. This program creates opportunities, inspiring youth to achieve their goals."
The Stewarts also support the Boys & Girls Club of New York. Chris has remained close to the Knights since playing for them in 2001 following his freshman year at Riverside City College; he and his wife were special guests at the team's annual Hot Stove Night this past January.
"We truly appreciate Mr. Stewart's thoughtful donation for our kids!" said Kris Latimer, the executive director of Boys & Girls Clubs of the Greater Santiam. "These tickets will be utilized as an incentive for our Passport to GREATness program, which encourages club members to participate in a wide range of activities designed to help them be successful.
"The tickets also demonstrate to our members how important it is to give back to the community. From everyone at The Greater Santiam, thank you Chris and Lindsey!"
Stewart was the MVP of the 2001 Aloha Knights, the precursors of the Corvallis Knights. He has played for five major-league clubs in a professional career that began in 2002 in the Chicago White Sox organization.
"This is a great opportunity for kids in Linn County to attend a game and enjoy professional-caliber baseball and entertainment at Goss Stadium this summer," Knights president Dan Segel said. "Chris and Lindsey are very giving people and we're thrilled to play a part in forming 'Stew's Crew.' "
The Knights open their seventh season in Corvallis on June 4 with a nonconference game against the Portland Lobos. They start the West Coast League season at Wenatchee on June 5; their WCL home opener is June 12 against the Kitsap BlueJackets.