Corvallis Alum Griffin Boyd Lands Front Office Job in West Coast League.
November 6, 2013
Medford Rogues Name Former Knights' Infielder Assistant GM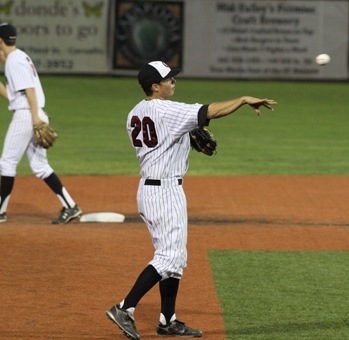 Griffin Boyd (pictured playing third base for the Knights at Goss Stadium) made a name for himself in his hometown as a standout for the South Medford High School Panthers and the Medford Mustangs American legion program.
Now, with a successful college career behind him, the former Corvallis Knights infielder (2010-2011) is eager to make his mark in the front office of the West Coast League's Medford Rogues.
Boyd, 23, was recently named the assistant general manager of the second-year Rogues, who last season tied for second place in the South Division and became the first WCL expansion franchise to capture a playoff berth under coach Josh Hogan, another Knights' alum (2007-09).
"I'm very excited to return to Medford," Boyd said. "The opportunity to be a part of a WCL team in my hometown is a great honor and I can't thank [general manager] Chuck Heeman enough for giving me this opportunity.
"Growing up Medford allowed me to have a great baseball experience. I can't wait to do all that I can to give the Medford Rogue team and fans this year a great experience as well."
Heeman called Boyd a "perfect fit" and the right person to help the Rogues continue to grow in the franchise's second year.
"He has successful sales experience, he knows the Rogue Valley business and non-profit community very well and understands our product," Heeman said. "This is a great step for him in his young career and a great addition to our front office staff.
"We've been looking for just the right person to fit this role and we're very fortunate to have found Griffin."
Boyd played at Mt. Hood CC and at Western Oregon University after graduating from SMHS. He lettered at WOU in 2011 and 2012 and graduated in in 2013 with a degree in communications studies with a minor in sports management.
He was a two-time Great Northwest Conference first-team all-star and helped lead the Wolves to conference championships and NCAA West Regional berths both seasons.
Following his graduation, he worked briefly for International Sports Management in Portland before joining the Rogues. His primary responsibilities will be increasing attendance through groups, fundraisers and party deck bookings, bringing new ideas to game presentation, and overseeing the game-day staff.
Boyd will also assume many of the team's public and media relations duties to increase awareness of the club in the Rogue Valley. Medford ranked third in total (35,665) and average (1,372) attendance in 2013 as an expansion club and the Rogues expect those numbers to grow in 2014.
"The Rogues immediately offered a great summer venue/atmosphere for baseball entertainment," Boyd said. "Growing up, baseball was always a great outlet for the people in this community to get out of the house and support the local ballplayers. My background, and being from Medford, will help the Rogue brand.
"I'm familiar with the Medford market and will do everything in my power to spread the Medford Rogue name. I think baseball holds a special place in many of the citizens of Medford. It's my job to let them know there is a great opportunity to come watch some of the best young talent in college baseball play in their own backyard at one of the best facilities in the state."
Originally a 10-day signee on the 2010 Knights, Boyd earned a full-time position and hit .295 in 40 total games, with no homers and 12 RBIs. He returned in 2011 but suffered a season-ending shoulder injury and played just 10 games.
He said he'd never forget his full season in Corvallis, when the Knights won the West Division title before losing to Bend in the divisional playoffs.
"Playing for a great coaching staff [Brooke Knight, Billy Clontz, Travis Hanson] was a blessing," he said. "They did a great job of continuing to develop talent after the spring season were over.
"Playing with such a great players and an organization was awesome. They Knights run a first-class organization and I was so thankful for the opportunity I had to play from them.
"My experience in the WCL with the Knights has set the expectation and shown me the model of what a successful WCL organization looks like."