Two-Way Player Dylan Jones of OSU Named Team MVP.
September 12, 2010
Kyle Kraus of University Portland Earns Top Pitcher Honors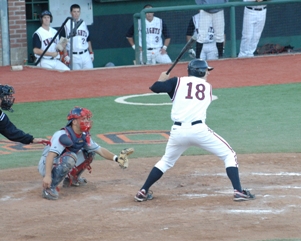 Corvallis Knights team president Dan Segel announced the club's selections for its annual awards and two-way player Dylan Jones (pictured at bat) was named Team MVP for 2010.
The awards were voted on by team management and the coaching staff.
Jones, a senior-to-be, exceled both as a pitcher and first baseman. The native of Aloha, Oregon earned second-team All-WCL honors at first base hitting .336 with a team-leading 10 doubles and 17 HBP. The sweet swinging left-handed batter also collected 3 triples, 9 stolen bases, 2 home runs (one an extra-inning walk-off blast) and 21 RBI.
On the mound, Dylan went 2-1 with a save while striking out 25 over 25 2/3 innings pitched. The southpaw made 6 appearances and 4 starts for the Knights and posted a 4.21 ERA.
Jones' best outing was June 27th vs. Kelowna at Goss Stadium. The lefty tossed 7 shutout innings allowing only one hit while striking out 14 to earn the 3-0 win.
Like Jones, Kyle Kraus of University of Portland returned for a second summer with the Knights and earned a team award. Kraus, a junior-to-be, was named Top Pitcher.
The right-hander from West Linn, Oregon was a first-team All-WCL selection as the Knights' ace went 5-1 and posted a 1.75 ERA despite missing the final three weeks of the season with an oblique injury.
"Dylan and Kyle were not only outstanding players for the Knights, they were leaders and very good in the community," said Segel. "It was a treat having them on the team."
Senior-to-be Daniel Dillard of Western Oregon was the unanimous pick for the Joe Segel Hustle Award.
"Dillard was loved by his teammates and coaches for the way he played the game and for how he kept things loose and fun," said Segel. "The kid plays with great passion, toughness and energy. He was the club's inspirational leader, no doubt."