Jeremy Ainsworth Named Staff Member of the Year.
January 13, 2013
Long-Time Corvallis Knights Head Trainer Recognized for Extraordinary Performance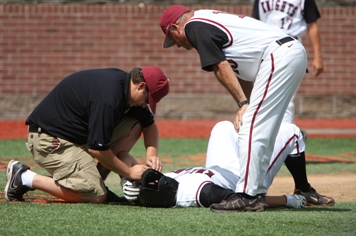 Head Trainer Jeremy Ainsworth (pictured attending to an injured Knight at a home game during the team's first season in Corvallis in 2007) was named the Corvallis Knights Staff Member of the Year for 2012 announced Team President Dan Segel.
"Jeremy turned in another stellar performance this past summer," said Segel. "He is a huge part of the team and adds such great value. I know our coaches and players really appreciate Jeremy's professionalism and ability."
Ainsworth started with the Knights when the team relocated from Gresham, Oregon to Corvallis in 2007. He works all the club's home games and also makes a few road trips each season.
"We are lucky to have Jeremy. He's a fixture who works very well with the players and coaches. We've definitely come to appreciate his extra efforts from detailed and timely injury reports to getting student-athletes the right treatment to recommending rest when needed," said Segel. "Our trainer is the best in the business!, and a true pro."
Jeremy is returning for a seventh season with the Knights. As the club's head athletic trainer, Jeremy is responsible for game training, medical coverage, treatment and coordinating additional care.
Ainsworth graduated from Oregon State with his Bachelor's degree in athletic training; he then earned his Master's in exercise and sports science at Oklahoma State.
Jeremy also works at PT Northwest and with Central High School in Monmouth. He is married and has two children.
Ainsworth joins previous honorees Bre Kerkvliet (2011), Doug Blair (2010), Brian Brooks (2009), Stro Strohmeyer (2008) and Holly Jones (2007) as Staff Member of the Year selections.