Southpaw Josh Osich of OSU Named #1 Pac-10 Projected Prospect by Baseball America.
February 15, 2009
Ex-Knight Nick Akins of Vanguard Named #2 NAIA Prospect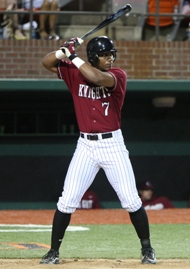 All-West Coast League southpaw Josh Osich of Oregon State was named the #1 Pac-10 projected prospect for the 2010 Major League Baseball draft by Baseball America in the national publication's college preview issue. Osich blossomed this past summer, posting a 5-0 record and 1.96 ERA while striking out 52 and walking only 14 over 46 innings pitched for the WCL champion Corvallis Knights. Osich pitched eight solid innings to earn the win in the Knights' 4-1 championship clinching victory vs. Wenatchee at Goss Stadium.
Baseball America named Osich the West Coast League's #2 prospect following his breakout summer.
The Beavers are counting on the sophomore from Boise, Idaho to be a key contributor this spring.
Other Knights recognized by Baseball America in its college baseball preview issue were Nick Akins (pictured) of Vanguard University, Kevin Castner of Cal Poly, Matt Way of Washington State, Steven Sultzbaugh of Rice and Daniel Bibona of UC Irvine, all members of the 2007 Corvallis Knights. 2008 West Coast League Pitcher of the Year Jared Eskew of Cal Poly was also mentioned.
Akins, a junior infielder/outfielder, was rated the #2 projected prospect in the entire NAIA (2009 MLB draft). Akins hit .227 with 3 HR and 15 RBI for the Knights.
Castner, a redshirt junior, was rated the #8 Big West projected prospect for the 2009 MLB draft. Castner pitched primarily out of the bullpen for Corvallis making 13 appearances and 2 starts. The hard throwing right-hander posted a 2.08 ERA and registered 2 saves while striking out 29 over 21 2/3 innings pitched.
Way was rated the #19 projected senior class prospect. The southpaw went 5-1 for the Knights while posting a 2.59 ERA over 10 appearances and 9 starts. Matt was named first-team All-WCCBL.
Sultzbaugh, a junior outfielder at Rice, was rated the #3 Conference USA projected prospect for the 2009 MLB draft and was also named the conference's #2 top newcomer. Steven hit .125 (24 at bats) for the Knights before leaving for home with a back injury.
Baseball America named Bibona its pre-season Big West Pitcher of the Year. Bibona mastered his devastating change-up while pitching for Corvallis following his freshman season where he went 2-2 with a 2.29 ERA for the Knights. The junior southpaw made 11 appearances and 4 starts while striking out 39 over 35 1/3 innings pitched and was named All-WCCBL honorable mention.
Eskew, the Knights' ace last summer, was rated the #45 projected senior class prospect. Jared went 4-0 for Corvallis and posted the club's lowest ERA (0.99) over 8 starts.