Knights Earn Season-Ending Honors.
June 8, 2010
Senior Southpaw Daniel Bibona of UC Irvine Named Big West Pitcher of the Year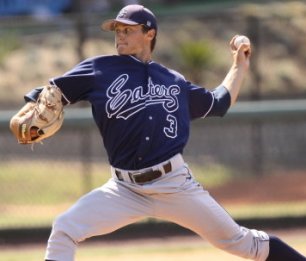 Several ex-Knights and future Corvallis Knights players earned season-ending spring honors including UC Irvine ace Daniel Bibona (pictured) who was named Big West Pitcher of the Year for a second straight season.
The Anteaters ace went 9-2 and sported a league-leading 2.10 ERA for UCI this spring.
The lefty also became UCI's all-time strikeout leader with 330 after fanning 100 batters in 90 innings this season.
Daniel was selected in the 16th round of the 2009 MLB draft by the St. Louis Cardinals.
Bibona also earned 2010 first-team Louisville Slugger and Collegiate Baseball All-America honors.
Former Knights' catcher Rocky Gale was named WCC Defensive Player of the Year and first-team All-WCC. Gale led the WCC in SBA% his freshman, sophomore, junior and senior years. He also led the Pilots (.347) in hitting this past spring.
Gale, who played for the Knights in 2007 and 2009, caught Bibona in the Kngihts' first season in Corvallis.
That summer, Bibona developed his masterful change and went 2-2 with a 2.29 ERA to earn All-West Coast Collegiate Baseball League honorable mention.
Rocky completely stymied opponents running games during his two seasons in Corvallis.
Gale's summer and spring teammate Kyle Kraus was also named first-team All-WCC. The sophomore right-hander continued to develop last summer as the Pilots ace from West Linn, Oregon was named first-team All-WCL. Kyle went 6-2, leading the WCL in wins, and posted an impressive 2.04 ERA.
Other ex-Knights that earned season-ending honors included All-Pac-10 first-team southpaw Tyler Anderson of University of Oregon; All-Pac-10 honorable mention pitcher Sam Gaviglio, pitcher Greg Peavey and catcher Andrew Susac of Oregon State and infielder Doug Cherry of University of Washington; All-Big West honorable mention outfielder Adam Melker of Cal Poly; and second-team All-Big 12 infielder Davis Duren of Oklahoma State.
Future Knight outfielder Mitch Haniger was named the Big West Freshman of the Year. Haniger hit .326 with 7 HR and 46 RBI.
Also, future Knights' pitchers Mitch Patito, a freshman at UC Riverside, and Scott Lyman, a sophomore at UC Davis, were named All-Big West honorable mention.