Corvallis Pitching Coach Connor Lambert to Return.
November 8, 2011
Knights Pitching Staff Led League in ERA and Strikeouts Last Summer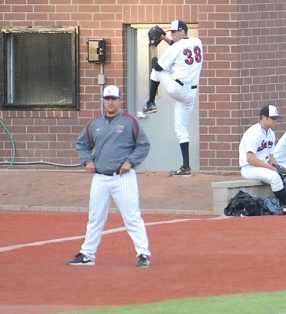 The Corvallis Knights have learned at least one thing while winning two West Coast League championships, four WCL West Divisional Series and five consecutive WCL West Division regular-season titles since moving here before the 2007 season.
Don't mess with a successful formula.
Continuity - a rare characteristic in the ever-changing world of summer collegiate baseball - is very important. And the latest example of this philosophy appeared over the weekend, when skipper Brooke Knight announced that 2011 pitching coach Connor Lambert (pictured in the Knights' home bullpen with UC Irvine right-hander Sebastian Santos in the background warming up) would return for the 2012 season.
"I am really pleased Connor has chosen to return to our club," Knight said. "He showed that special talent of being able to relate to the guys effectively, which enabled him to share some of the knowledge he has gained in his own career.
"I expect that he will be even more confident and polished in 2012."
The Knights led the West Coast League in ERA (2.47), set a league record for strikeouts (401), and had six pitchers earn All-WCL honors.
It was the third time in the past five years the Knights posted the WCL's top ERA.
Lambert was a four-year letterman at Washington State (2007-10) and a WSU graduate assistant coach (2011) before joining the Knights last summer.
Five members of his 2011 staff (Mark Trentacosta, Max Beatty, Dylan Stuart, Chris Johnson, and Kyle Hart) are also expected to return and Lambert's eager to work with them again.
"Obviously I would take the entire staff back in a heartbeat, I can't tell you how much I connected with that group," Lambert said. "To have five of those guys back is very exciting."
"They give us a nucleus that has a real chance to compete at a high level next summer. I am really excited to see these guys come June."
How good was the Knights' 2011 staff? They won their final 11 regular-season and playoff series en route to the WCL championship, and did not lose consecutive games over that 33-game span.
"Once a majority of the guys were with the team I let them do their own thing so I could get a feel on who did what, who had their own certain routines and what we could work on," Lambert said. "Most guys responded well to that hands-off approach early because they understood I was respecting them and trusting them.
"Once we had that trust I began to put into effect things that I wanted to see out of certain guys as far as bullpens/conditioning/performance. Being as young as I am, I think that portion of gaining trust with the guys was crucial for them to understand that I knew what I was doing. This really helped us grow as a group as well as individually.
"I was really lucky with the staff I had because getting those guys to perform at a high level was as easy as putting them into the game. Not one guy I ever put into the game gave me the feeling they weren't going to give me the effort to pitch at a high level."
Lambert said he expects his own learning curve as a coach will mirror that of his pitchers, and he plans to be an even better coach in 2012, with another season under his belt.
"I learned and grew just as much as all of my pitchers did last summer," he said. "I attribute this to the pitching staff, skip and assistant coach Billy Clontz.
"Coach Knight gave me the freedom to learn from various mistakes and to take a few risks. I really can't say enough about Brooke and how his vision shaped our championship season. He was truly a great head coach to work with and I look forward to another summer on his staff.
"Coach Clontz was very helpful in getting me acclimated to the Knights' family and becoming not just a great colleague but a great friend. Coach Clontz's work ethic was a real inspiration to me and made it really fun to head to the ballpark each day."
Part of his growth as a coach will be incorporating some new ideas, because not everything he teaches, or a uniform approach, works with every player. "I foresee changing a few pre-game throwing programs I have picked up on from a few different pro teams, which are great for arm strength and sustainability," he said. "Of course I will maintain my philosophies when it comes to the mental game of pitching and my approach of attacking hitters.
"Having a strong mental game is something I feel most pitchers lack and is a skill that can take pitchers to that next level. And for some of the returners I think taking their mental game even further will benefit them to reach heights they have yet to experience."