Knights' Alum Matt Duffy Honored by San Francisco Giants.
October 3, 2015
First SF Rookie to Earn Willie Mac Award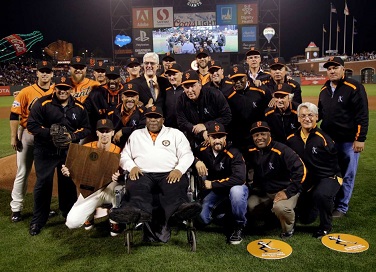 Former Knights' infielder Matt Duffy was the recipient of the 2015 Willie Mac Award, an annual honor voted on by San Francisco Giant players and coaches; and Giants' legend Willie McCovey.
The award ceremony took place before last night's Giants/Colorado Rockies game at AT&T Park.
Duffy (pictured kneeling left of Willie McCovey with past Willie Mac award winners) played shortstop and second base for the Corvallis Knights in 2010 following his freshman season at Long Beach State. Matt showed great promise that summer and earned second-team all-WCL honors.
To watch the ceremony and read more about Matt's huge honor, please click here.
Matt Duffy 1st rookie to win Willie Mac Award
by Bruce Jenkins, San Francisco Chronicle
There's no way anyone could have imagined this in spring training. Matt Duffy was just trying to make the team, let alone earn a starting spot and become a candidate for Rookie of the Year. Tonight, in a true testament to what he means to the team, Duffy won the annual Willie Mac Award, signifying the Giants' most inspirational player in the grand Willie McCovey tradition.
This is an award the Giants take quite seriously, dating back to the first winner (Jack Clark) in 1980. "Whoever wins it should be honored," manager Bruce Bochy said before the game, "because it's voted on by your teammates and coaches. It goes to someone they respect, a guy they look up to as far as how they play the game, a guy who fires 'em up sometimes. It's always nice to be honored by your peers."
Bochy didn't know how the voting went because, for the first time, the Giants decided to make the announcement at 7 p.m. - just a few minutes before game time against Colorado. They didn't want social-media outlets leaking the news in the afternoon, so they made it a surprise for everyone.
And it was a bit of a shock. Not because Duffy lacked the credentials, but because he was the first rookie ever to be so recognized. "I couldn't be more honored," the third baseman told the crowd. "It's a special award that goes back 35 years, and it's great to see so many past winners here tonight (including Jack Clark, Dave Dravecky, Robby Thompson, J.T. Snow, Kirt Manwaring and Chris Speier). "I'd like to thank the coaching staff, my teammates, my family, and all the coaches who taught me how to play the game the right way. I learned that if you put in the time and the preparation, good things will come. And finally, I'd like to thank you, the fans. You pack this place every night, and the energy you bring to the park is unbelievable."
A .300 hitter most of the season, Duffy stands at .298 going into tonight's game, and he has become an essential part of the Giants' batting order with his occasional power, clutch performances and his remarkable knack for opposite-field hitting. It's unlikely he'll be the National League's Rookie of the Year - the Cubs' Kris Bryant looks like a lock there - but he knows he has earned the league's respect. What happened tonight shows just how much he means to the Giants organization.