First Hot Stove Night Warms Fans Up for Spring and Summer Baseball.
January 20, 2012
Special Guests Brent Morel of the White Sox and Gabe Sandy of Miami Deliver Great Insight.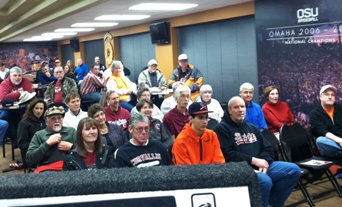 Former Knights' infielder Brent Morel and ex-Knight assistant coach Gabe Sandy entertained and informed a full house at the Omaha Club Room at Goss Stadium on January 18 at the team's first Hot Stove Night event.
The starting third baseman for the Chicago White Sox, Morel spoke about the behind-the-scenes aspects of major-league baseball, addressing travel, life in the clubhouse, how some of the White Sox veterans have mentored him since he reached the majors in September, 2010, and other topics.
He also recounted his quick rise through the White Sox minor-league system after being drafted out of Cal Poly following the 2008 season, and reminisced about his summers with the 2006 Aloha and 2007 Corvallis Knights clubs.
Sandy, an assistant coach with the Knights under Dale Stebbins in 2005 and 2006, is now the Northwest Area scout for the Miami Marlins.
He explained what scouts look for in a prospect, noted how difficult it is for any draftee to eventually reach the majors. He used Morel as an example of a mentally focused player who never cheated himself and always got the most out of his ability.
"It was a great night for Knights fans," said team president Dan Segel, the third member of the guest-speaker panel. "I really want to thank Brent and Gabe for taking time out of their busy schedules to give fans an inside look at baseball at the highest level.
"It just shows what high-character people they are and why we are so thrilled with their big league success."
Segel previewed the 2012 club, which begins defense of its 2011 WCL championship on June 1 at Walla Walla, and outlined the bright future of the West Coast League.
The WCL enters its eighth season intending to build upon a successful 2011 campaign, when a record number of WCL alums were selected in the MLB draft and new team and league attendance standards were established for the seventh consecutive year.
"We hope to make Hot Stove Night an annual event," Segel said. "It was a wonderful night and an added value for our fans."
Morel: From the Knights to the big leagues by Brad Fuqua, Gazette-Times.