Former Knights' Intern Opening Day is at Yankee Stadium.
April 6, 2015
Rob Morse Starts First Season with New York as Yankees Media Relations Coordinator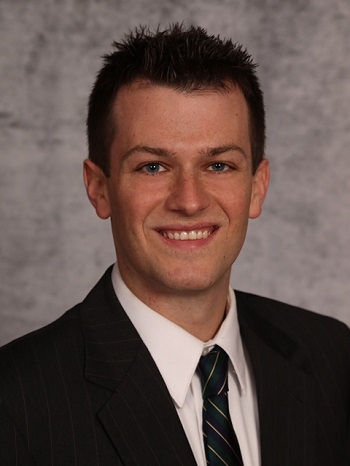 Brent Morel became the first Corvallis Knight to play in the major leagues when he made his debut with the Chicago White Sox in Sept., 2010.
However, the former Cal Poly star isn't the only member of the 2007 Knights team - the first to play in Corvallis following the franchise's relocation from Mt. Hood Community College in Gresham - to reach the highest level of professional baseball.
University of Oregon graduate Rob Morse, the Knights' Baseball Information Manager while interning for the club that inaugural summer, made it to the majors with the Texas Rangers as their Manager of Media Relations and Publications, in Jan., 2012.
He hasn't looked back. In fact, Morse took a major step forward in the offseason when he left the Rangers to become the Media Relations Coordinator for the New York Yankees, baseball's most storied and successful franchise. He started his new job in March, and has been working almost 24/7 to prepare for the 2015 season, which for the Yankees begins today with a home game against the Toronto Blue Jays.
"It's just been a tad hectic around here," said Morse, a Houston native who has worked a variety of jobs in professional sports while moving his way up the food chain since leaving UO in 2008 with Bachelor of Science degrees in geography and business, with an emphasis in accounting. "I'm still settling in."
Morse paid his dues en route to the Bronx.
He started in Portland, first as a media relations assistant with the old Portland Beavers in the Pacific Coast League (Nov., 2008-Oct., 10). The Beavers departed Portland after the 2010 season so he went to work for the new full-time tenants of then-PGE Park, the expansion Portland Timbers of Major League Soccer.
He never completely left baseball, however. Morse was a media relations assistant for the Arizona Fall League in 2009 and 2011, and then left the Timbers after the 2011 season to join the Rangers.
The Knights caught up with Morse recently to get an update on his career. It's a long ways from the press box at Goss Stadium to the press box at Yankee Stadium, but he has fond memories of his days in the West Coast League and his first foray into the world of organized baseball from the business side, as revealed in this Q & A feature.
KNIGHTS: What does you new job entail? Do you have more responsibilities with the Yankees than you did with the Rangers?
MORSE: "It's pretty similar to my job with the Rangers. As a media relations department, our primary responsibilities are to provide information about the team to the media and the public. We also coordinate the media's interviews with the players, coaches, and front office through press conferences and pre-game and post-game locker room media access.
"In addition to press releases, we inform the media by producing daily game notes for them. Game notes are packets that include statistical information about the players. Many of the statistics you hear on a baseball broadcast - or read in the newspaper - come from our notes, which are updated prior to every game.
"Personally, I'm still carving out my role - and the season is in its infancy - but I help research and write game notes, set up press conferences, and answer questions that the media have for us. Mostly, it's a grab bag of various roles within the department.
"I've always had a passion for baseball statistics, so being provided with the opportunity and the tools to unearth some of the more interesting statistical nuggets is one of my favorite parts of the job, and a true honor.
"Yankee Stadium, starting in 2015, is also the home of New York City FC, an MLS expansion club. We help them run their gameday media obligations like operating the press box, coordinating pregame ceremonies, and putting on a post-game press conference. It helps that I have a year's experience with the media relations side of an MLS expansion team."
KNIGHTS: Has it always been your desire to work for the Yankees? Were you a Yankees fan growing up?
MORSE: "I had never really considered it. My dad is from New England, and he and his whole side of the family grew up Red Sox fans, so they have been giving me a hard time about working for the Evil Empire. It's all in good fun, though."
KNIGHTS: Are you excited about living in New York City?
MORSE: "I've been here almost a month, and I learn exciting new things about the city every day. This city is unlike anywhere I've ever lived. I haven't driven a car in a month. Heck, I haven't ridden in more than a half-dozen cars, mostly taxis.
"Once the weather warms up a bit more, I'll be exploring this metropolis with all my free time. It's a different lifestyle, but I love it. There's a certain cachet about the city that I only started to realize right before my trip when the SNL40 show aired.
"Times change over multiple decades, but New York is always there. It's such a revered city. It's a privilege to have the opportunity to experience it."
KNIGHTS: Knights Senior Vice-President of Operations Holly Jones lived in New York City while working for the NBA and for JetBlue. Has she given you any advice?
MORSE: "Holly and I have kept in touch since we worked together for the 2007 Corvallis Knights. I don't think I've specifically come to her with any questions about New York, but I remember talking to her about it back when she was here with the NBA. She's really busy, you know."
KNIGHTS: You've been in baseball for most of your career. What made you choose that field, instead of say, basketball or football? Have you always been a baseball fan?
MORSE: "I was always a baseball fan since I was three years old. Growing up in the 1990s in Houston, I was a huge Astros fan. I used to imitate the swings of Craig Biggio and Jeff Bagwell in the living room, and I attended dozens of games in the Astrodome as a kid (God bless that nostalgic smell of stale beer).
"I went on to play baseball throughout my childhood until my junior year of high school, when my 6.00 ERA on junior varsity didn't merit a spot on the varsity squad.
"I became a big college football fan when I got to Eugene in 2004. It was still a new sport to me at the time - I didn't know much about the history or the rivalries or the X's and O's. Now, it's my second-favorite sport, and Oregon football is my favorite team in any sport. "But to more directly answer your question: baseball is such a statistically-driven sport that it plays nicely into my fondness for sports statistics. And working games is my favorite part of the gig. "We get 81 at home every year. That's more than the 41 in the NBA or NHL, and a lot more than the eight in the NFL or six in college football."
KNIGHTS: You've lived all over the country since leaving Houston to attend Oregon. Has that been a big adjustment for you?
MORSE: "To me, moving from Houston to Eugene was one of the more jarring realizations of my life. I left behind the heat and humidity of southeast Texas for the gorgeous state of Oregon (and Oregon summers!).
"I hadn't planned on ever moving back to Texas, but when a job opened in the Texas Rangers media relations department in 2012, it was a no-brainer. Joining a Major League Baseball front office was a dream come true, and I have never, at any point, taken it for granted.
"I'm always happy to answer any questions people have about working in this industry. It definitely takes some good luck, but you have to work hard in order to be prepared enough to take advantage of those opportunities when they do come.
"I've learned a lot of things and met a lot of great people throughout my career, from the Eugene Emeralds in 2006, the Knights in 2007, the Portland Beavers from 2008-10, the Timbers from 2010-11, the Arizona Fall League in 2009 and 2011, and the Rangers from 2012-14. Hopefully I've got a lot more learning left to do and a long career ahead of me."
KNIGHTS: It's been a long time since you worked for the Knights. What do you remember about your time with our team?
MORSE: "The statistician internship with the Knights that Dan Segel and Holly hired me for was my first job in sports media relations.
"I loved how fun the job was. Spending cool summer nights watching the Knights and helping Mike Parker with stats taught me what kinds of information a broadcaster looks to use on his broadcasts.
"We piled five interns into a one-bedroom apartment in Corvallis. There were too many shenanigans for me to go into, but it was an absolute blast. Getting to work with players who were being scouted by major league teams was also a thrill.
"Holly, two other interns and I once road tripped to Wenatchee for a Knights-Apple Sox game, then drove to Seattle for Red Sox-Mariners game. As if sharing a one-bedroom apartment wasn't enough, we needed to cram into a sedan for 15 hours on a road trip. But it was a whole lot of fun."
KNIGHTS: How did that internship help further your career?
MORSE: "I would obviously recommend interning with the Knights for everyone wanting to work in sports. I've run into our 2007 manager Matt Dorey twice in the last year. First, he came to Arlington to scout for the Red Sox. Then, I saw him at the baseball Winter Meetings in San Diego this past December.
"He's now the director of amateur scouting for the Chicago Cubs and was in the middle of celebrating the Jon Lester signing."