Corvallis Announces Team Awards.
September 11, 2011
David Armendariz of Cal Poly Named MVP and Chris Johnson of University of Portland Top Pitcher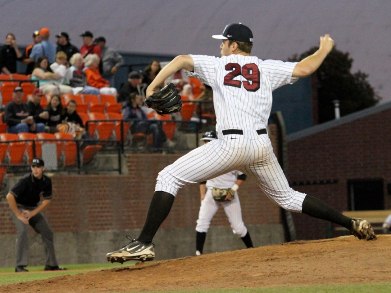 The Corvallis Knights announced their team awards as voted on by the club's coaching staff and team president.
First baseman David Armendariz of Cal Poly was named the team's MVP, and junior-to-be pitcher Chris Johnson (pictured pitching in the 2011 WCL All-Star Game) of University of Portland the Knights' Top Pitcher.
David Armendariz won two team awards as the sophomore-to-be was also the club's pick for its Joe Segel Hustle Award.
Armendariz hit .271 during the WCL regular season and led the Knights in WCL regular-season RBIs with 23.
For the entire season, including playoffs and non-league games, David hit .289 over 204 at bats, collected 12 doubles, stole 14 bases and tied for the team lead in RBI with Ryan Gorton of OSU with 28.
The slugging right-handed hitter from Granada Hills, California earned second-team All-WCL honors and hit .300 with two triples in the post-season to lead the Knights to their second WCL title.
"Even though David was a freshman, he was the clear leader of this summer's team," said team president Dan Segel. "His energy and competitiveness were infectious."
"The way David runs the bases and approaches the game reminds me of Brent Morel when he was with the Knights. (Also from Cal Poly and now the starting third baseman for the Chicago White Sox) Morel played the game very hard, all the time, much like Armendariz did this past summer.
"While Brent was quiet and led by example, Armendariz was a vocal leader that led by example, and who brought great energy and a positive attitude to the park every day.
"David made great strides as a defender this summer and runs the bases very well. He's an athletic, high-energy kid with a bright future in the game."
Chris Johnson pitched in the WCL All-Star Game and earned second-team All-WCL honors. The right-hander went 6-0 and posted a 2.58 ERA over 9 appearances, 8 starts and 45 1/3 innings pitched.
Johnson won game two of the WCL West Divisional Series vs. the Bend Elks.
Both Armendariz and Johnson were recently rated as top WCL prospects by PG Crosschecker as David was ranked #17 and Chris #14.