Six Knights Alums Earn All-Pac-12 Honors.
June 4, 2016
Former Corvallis Stars Logan Ice and Nick Madrigal of OSU Named Defensive Player of the Year and Freshman of the Year, Respectively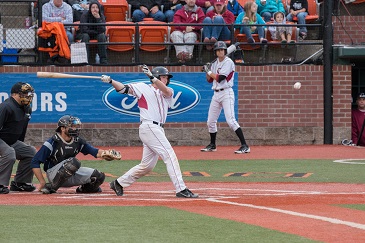 Six former members of the Corvallis Knights were honored earlier this week when the Pacific-12 Conference released its postseason awards for the 2016 season.
Earning highest honors were Oregon State junior catcher Logan Ice (pictured, 2014), who was named the Defensive Player of the Year, and OSU second baseman Nick Madrigal (2015), who garnered Freshman of the Year honors. Both were also first-team all-Pac-12.
OSU sophomore first baseman KJ Harrison and sophomore left fielder Christian Donahue, Madrigal's teammates on the 2015 Knights, were also first-team selections.
University of Oregon junior reliever Stephen Nogosek (2013) earned first-team all-Pac-12 honors. Washington State sophomore pitcher Ryan Walker (2015) earned honorable mention.
Ice was named honorable-mention all-WCL following his summer with the Knights. He was ranked number 20 on Perfect Game's WCL pro prospect list. This past spring, he hit .310, with 13 doubles, five triples, seven home runs and 39 RBIs and threw out 44 percent of potential base-stealers.
Madrigal was first-team all-WCL in 2015 and was ranked No. 5 by Perfect Game and No. 8 by Baseball America on their pro prospect lists. He led the WCL and set a league record with 40 stolen bases in just 44 games.
Nick hit .333 with 11 doubles, five triples, one home run and 29 RBIs at OSU. He was the second Knights alum in a row to earn Pac-12 Freshman of the Year honors; Harrison won the award in 2015.
Harrison earned all-Pac-12 honors for the second year in a row by hitting .265 with 14 doubles, four triples, 10 home runs and 47 RBIs. He led the Pac-12 with 30 RBIs and tied for the league lead with eight homers in conference games.
Donahue hit .339 with 11 doubles, five triples, one home run and 29 RBIs in his first season as an outfielder. He led the Beavers with 20 multi-hit games, and had three or more hits in a game nine times.
A junior right-hander, Nogosek was Perfect Game's No. 16 WCL prospect in 2013, the summer before his freshman season at Oregon. He was 2-2, 1.11 with 16 saves and 45 strikeouts in 40.2 innings in 2016 for the Ducks and earned third-team Louisville Slugger All-American honors.
Walker was ranked No. 7 by Perfect Game and No. 11 by Baseball America after his summer with the Knights. He also appeared in the WCL All-Star Game.
The sophomore right-hander posted the Pac-12's sixth-lowest ERA (2.66) and batting average against (.212) in conference games and either won or saved eight of WSU's 11 league victories.
Walker went 6-3, 2.40 in 18 games, with five saves and 50 strikeouts in 63.2 innings. His six relief wins tied for the second-most in WSU single-season history.