Oregon State Ranked #19 in USA Today Preseason Poll.
January 27, 2012
Beavers Expect Big Things from Future Knight, Frosh Catcher Nate Esposito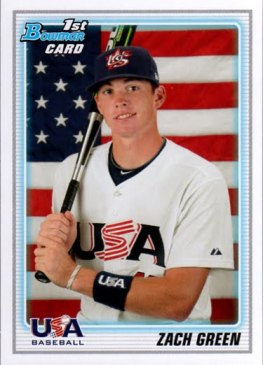 Corvallis fans may be reminded of players of yore this summer when they watch incoming Knights Nate Esposito and Zach Green (pictured).
An Oregon State freshman catcher from Granite Bay, Calif., the 5-foot-11, 180-pounder will compete for playing time against former Knights Ryan Gorton and Jake Rodriguez. But OSU assistant Marty Lees, who coaches OSU catchers, said Esposito reminds him of another former Knights' backstopper: ex-Beaver Erik Ammon, who played for the Knights from 2005-07.
A senior at Jesuit High School in Sacramento who will play in Corvallis this summer before enrolling at OSU this fall, Green is similar to ex-Knights' Andrew Susac (2009) and Jake Rodriguez (2010). They likewise gained invaluable experience by playing in the West Coast League before starting college.
Esposito was an All-Sierra Foothill Conference selection as a senior and then was picked by the Oakland Athletics in the 46th round of the 2011 MLB draft. He didn't sign, though, to the Beavers and Knights benefit.
Lees said Esposito has plenty of baseball savvy because his father, Pat, is a high school coach and former player at Cal Poly.
"He gets everything," Lees said. "He's a complete package, in regards to being able to block, receive and throw. Nate reminds me a little bit of Erik Ammon as far as a catching-style style, he's a very solid receiver. The pitchers love him."
Esposito isn't as advanced offensively as Gorton, who hit .301 with 18 RBIs in half a season while helping lead the Knights to the 2011 WCL championship, or Rodriguez, who made the Cape Cod League all-star team in 2011 after hitting .320 as an OSU freshman.
But he's very polished defensively and that should earn him plenty of opportunities this spring.
"Time will tell but I think he's going to be a very good catcher, we're planning on catching him a lot in the three or four years he'll be here," Lees said. "Right now he's (behind Gorton and Rodriguez) in regards to hitting, but the catching part, he's one of the best ones."
Knights' skipper Brooke Knight caught at OSU and Western Oregon from 1993-95 and played professionally for several years. His expertise has helped the Knights establish a legacy of excellence at that position since moving to Corvallis in 2007.
* Rocky Gale of Portland (2007, 2009) played at every level of the San Diego Padres organization last season.
* Alex Burg of Washington State (2008) had a standout 2011 season with the San Jose Giants, San Francisco's Class A California League affiliate, and was an Australian Baseball League all-star this season with the Perth Heat.
* Susac (2009) was the San Francisco Giants' second-round selection in the 2011 draft and is considered one of the organization's top prospects.
"Brooke is an ex-catcher and he does a great job of preparing kids with the big picture in mind," Lees said. "(The Knights) are a good fit and that's what I like about our freshmen staying in town and competing at a higher level the following year.
"There's an attention to detail in everything that goes on with the Knights. It's the whole package."
Green is a 6-3, 210-pound shortstop at Jesuit High - the alma mater of Susac and ex-Knight/OSU junior Danny Hayes - who could play immediately at OSU.
"I see (Green) being the same caliber of player as Susac and Rodriguez", both of whom were Cape Cod League all-stars the summer after playing for the Knights, Lees said. "He can play anywhere on the field, he's that athletic.
"He just needs to see quality, college pitching," and a summer in the WCL will jump-start that process. "It looked as if (Susac and Rodriguez) struggled a bit with the Knights, but they didn't.
"It was just that growing process. By the time fall got here, they were ready to go. They knew what Corvallis was all about, and they had a head start in the weight room, in facing college pitching, and in being around college-age kids.
"There made substantial progress from spring to fall by playing up," Lees said. "There's development as players go through the summer and it keeps right on going throughout the year."