Dane Lund Named Team MVP.
August 28, 2013
Elliot Surrey of UC Irvine Earns Knights' Top Pitcher Honors; Joe Segel Hustle Award Goes to Chris Rabago of the Anteaters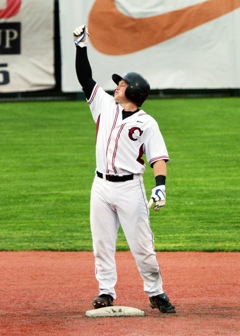 Veteran catcher/outfielder Dane Lund (pictured) was named the Most Valuable Player of the 2013 West Coast League champion Corvallis Knights, general manager Bre Kerkvliet announced yesterday.
Left-hander Elliot Surrey of UC Irvine earned the Knights' Top Pitcher Award, and catcher/shortstop Chris Rabago of UC Irvine repeated as the Joe Segel Hustle Award winner. Voting on the awards was done by the coaches and team executives.
A three-year Knight, Lund was a sparkplug and team leader who excelled offensively and defensively despite playing the final one-third of the season with an injured hand. He was a first-team All-WCL selection, and also played in the All-Star Game in Victoria.
Lund finished sixth in the WCL with a .343 average, was second with 25 stolen bases in 26 attempts, and had a league-best 11 sacrifice bunts. He hit a team-high .308 overall, with 17 RBIs and a team-best .845 OPS and .452 on-base percentage.
A native of Astoria, Lund played two years at Mt. Hood CC and one year at San Jose State. His senior-year destination is still undetermined.
A rising sophomore at UC Irvine from La Crescenta, Calif., Surrey was 5-1 in the regular season, with a WCL-best 1.26 ERA. He also won his lone start in the playoffs and finished 6-1 overall, with a 1.27 ERA and 35 strikeouts in 56.1 innings.
Surrey was 7-for-7 in quality starts. He had one complete-game shutout, allowed one or less runs in five of his seven starts, and two or less runs in all seven starts. He allowed seven or less hits in six of his seven starts.
A catcher/shortstop from Riverside, Calif., who will be a junior at UC Irvine, Rabago is the first player since Indiana's Mark Calkins (2001-02) to earn consecutive Hustle Awards. It is given to the player who best exemplifies the hustle and desire shown by team co-founder Joe Segel, now a key member of the club's board of directors.
Rabago emerged as a team leader in his second season and hit .222 with a homer and 17 RBIs. He excelled defensively at shortstop and behind the plate.