Eleven Knights Picked in MLB Draft.
June 11, 2015
Cal Poly Teammates and Corvallis Alums First Two Knights Selected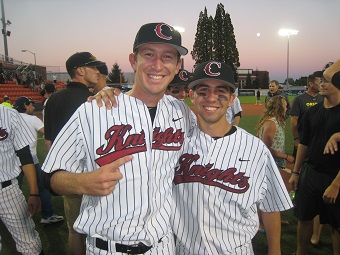 Eleven Corvallis Knights alumni or current players were selected in the 2015 Major League Baseball June draft yesterday (June 10, 2015).
Cal Poly junior shortstop Peter Van Gansen (2013), the 2015 Big West Conference Defensive Player of the Year, was taken in the 12th round by the San Diego Padres as the 357th overall selection.
Van Gansen (pictured with his teammate Casey Bloomquist) was a first-team all-West Coast League performer for the Knights' 2013 championship team. He was one of five players from that title team to be chosen in this year's draft. Four other players from that club went in the 2014 draft.
Also selected on Wednesday were:
* Oklahoma junior catcher Chris Shaw (2014) went to the Baltimore Orioles in the 15th round with the 463rd overall selection. He also was taken in the 14th round in the 2014 draft after his sophomore season at Midland (Texas) JC, by St. Louis at No. 435.
* Cal Poly junior right-handed pitcher Casey Bloomquist (2013) went to the Chicago Cubs in the 17th round with the 503rd overall selection. He was honorable-mention all-WCL in 2013.
* Newly signed Elk Grove High School infielder Nick Madrigal (2015) was nabbed by the Cleveland Indians in the 17th round with the 514th overall selection. Madrigal has committed to Oregon State.
* Left-handed pitcher Austin Sodders (2014) of Riverside City College was picked by the Pittsburgh Pirates in the 17th round as the 517th overall selection.
* Oregon State first baseman Gabe Clark (2013) went to Toronto in the 26th round as the 782nd overall selection. He was ranked as the WCL's 17th-best pro prospect after his 2014 season at Victoria by PG Crosschecker.
* Columbia outfielder Gus Craig (2013), the 2015 Ivy League co-Player of the Year, was drafted by Seattle in the 30th round as the 905th overall pick.
* Current Corvallis pitcher Nick Duron (2015) of Clark College went to Boston in the 31st round as the 921st selection.
* Catcher Nate Esposito (2012) of Concordia went to Boston in the 33rd round as the 999th overall pick.
* Lefty Andrew Naderer (2013) of Grand Canyon was selected by Detroit in the 37th round as the 1,120th pick. He was ranked No. 11 in Perfect Game's 2013 top WCL prospects.
* Returning Knights' first baseman Dalton Kelly (2014-15) of UC Santa Barbara went to Seattle in round 38 as pick No. 1,145. He was ranked No. 5 by Perfect Game in their 2014 top WCL prospects list.
Thirty-four Corvallis Knights alums began the 2015 season in affiliated pro baseball. Andrew Susac (2009), Matt Duffy (2010) and Matt Andriese (2009) have played at the major-league level this year.