Corvallis Knights 2008 MVP Alex Burg Catching in Marlins System.
April 5, 2014
Burg Starts Season at Jacksonville (AA)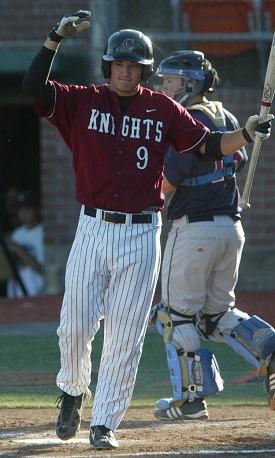 It looked as if Alex Burg's career in affiliated baseball had reached the end of the road last spring when the San Francisco Giants released the MVP of the 2008 West Coast League-champion Corvallis Knights after three years in their minor-league organization.
The former Washington State standout still has a job, as he signed with the St. Paul Saints in the independent American Association shortly after being cut loose by the Giants, who'd selected him in the 24th round of the 2010 MLB draft. But independent ball - even in St. Paul, the American Association's premier franchise - is a far cry from affiliated baseball and is often the final stop of a player's professional career.
However, the Miami Marlins threw Burg a lifeline by signing the 26-year-old catcher/outfielder as a free agent. Assigned to Jupiter in the high-A Florida State League, he eventually was promoted to triple-A New Orleans before spending the final stretch of the season with the double-A Jacksonville Suns.
Burg responded to the second chance with a strong season. He hit .253 overall in 81 games, with six homers and 42 RBIs. So, he'll start the 2014 season exactly where he finished the 2013 campaign, with Jacksonville in the Southern League.
The Knights recently caught up with the 6-foot, 190-pounder from the Seattle suburb of Des Moines, who played one season at Clemson before returning to his native Northwest to play for the Cougars.
KNIGHTS: You had a great year in 2013, coming back from being released to signing with Miami and making it all the way to triple-A. Was it the most satisfying year as a pro?
BURG: "Yes I think it was. It was the biggest roller coaster season of my life. I got released was getting ready to go play indy ball when the Marlins called. I ended up playing well in Triple-A, and then finished struggling in Double A. But overall it was the most satisfying year because I got out of A-ball, which is the hardest thing to do besides make it to the big leagues."
KNIGHTS: Did it help re-kindle your enthusiasm for professional baseball?
BURG: "Absolutely. I was bummed when I got released and signing with the Marlins definitely re-energized my career. But going to Triple-A was the biggest energizer because you realize how close you are to the big leagues."
KNIGHTS: How much nicer are double-A and triple-A than single-A?
BURG: "Triple-A is incredible. You fly and everything is taken care of for you. Double-A was pretty cool; I was only there for a couple days so I didn't get to experience it fully but I enjoyed my time there."
KNIGHTS: What role do you envision yourself playing this season?
BURG: "I will be in a utility role, playing a little outfield, infield and still catching occasionally."
KNIGHTS: What did you do in the off-season?
BURG: "I hit with the best hitting coach in the country, Jason Ellison, and we made some big adjustments to my swing to improve on last year. I also worked at a local baseball facility called RIPS in my hometown of Des Moines, Wash."
KNIGHTS: I know it was a long time ago, but what are some of your highlights from your summer with the Knights?
BURG: "The championship game sticks out of course because we won at home. We got to dogpile and it was the only championship I've won. But that team was such a great group of guys, which made that whole summer one of the highlights of my life."
KNIGHTS: The year you played the Knights averaged about 600 fans and 1,000 was a big crowd. Now they Average more than 1,300 fans per game and have become quite popular. Did you think that could ever happen, and are you surprised by the growth of the franchise?
BURG: "It doesn't surprise me at all. With the continued success of the program and how hard the front office works, it was only a matter of time before the popularity reached the level it's at now."
List of Corvallis Knights MVPs. Where are they now?
2007: Jim Murphy, Washington State - Big Jim starts the 2014 season with the Lehigh Valley IronPigs in AAA (Philadelphia Phillies organization). The slugger is one step away from the big leagues. After two games, Jim is 4-for-9 with two doubles and a triple.
2008: Alex Burg, Washington State - Burg is 1-for-1 for Jacksonville.
2009: Richie Jimenez, Riverside CC - Jimenez is trying out college coaching this summer as an assistant coach for the Kelowna Falcons under the tutelage of former Knights' player and coach, and rookie Kelowna skipper, Billy Clontz.
2010: Dylan Jones, Oregon State - Jones is a graduate assistant coach at Oregon State and will join Jimenez this summer as Billy Clontz's pitching coach for Kelowna.
2011: David Armendariz, Cal Poly - Armendariz transferred to Cal Poly Pomona for his senior year where he's starring for the 21-7 Broncos and hitting .336 while leading Cal Poly Pomona in home runs with 5 and RBIs with 32.
2012: Greg Mahle, UC Santa Barbara - Mahle is a junior at UCSB. He earned his 5th win in relief yesterday in the Gauchos big 8-6 victory over #5-ranked Cal Poly. UC Santa Barbara is now 20-5 and ranked #17 by Baseball America, and Mahle is 5-1 with a 1.72 ERA over 15 relief appearances.
2013: Dane Lund, San Jose State - Lund is sitting out this spring after transferring from San Jose State to Oregon State. He's returning to Corvallis for a fourth summer in 2014, and will be a redshirt senior next spring.