Mike Parker to Return in 2015.
February 26, 2015
Voice of Beavers to Broadcast Knights' Games This Summer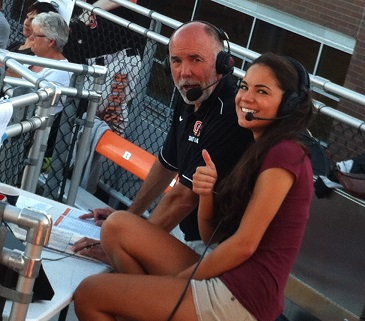 A familiar, knowledgeable voice will fill the airways this summer in the mid-valley.
Award-winning broadcaster Mike Parker (pictured with his daughter Lydia) will return as the radio play-by-play announcer for the Corvallis Knights after a one-year absence, Knights' president Dan Segel announced Thursday.
Parker will start his duties as soon as the Oregon State baseball team completes its season.
"I am absolutely excited to be coming back," Parker said. "I've had great experiences with the Knights. I missed it last summer. I'm excited to come back and to be around some of the best college players in the West."
The play-by-play voice of OSU football, men's basketball and baseball since 1999, Parker was also the Knights' original broadcaster. He joined the team in 2007 for the club's inaugural summer in Corvallis following their offseason relocation from Gresham, and gave them immediate credibility in the mid-valley market.
He remained with the Knights until 2012, when Virginia Tech graduate Kevin Burke succeeded him for a summer.
Parker returned for the 2013 WCL championship series, and then took a break last summer as well, when Iowa grad Alex Kuhn handled the play-by play chores.
Mike said he enjoys the more relaxed atmosphere in summer college ball after a spring in the pressure-cooker of the Pacific-12 Conference.
"I don't feel as though I live and die with every pitch, as I do in the grind of a Pac-12 season," he said. "Having said that, down the stretch in August, when the playoffs beckon and we get into postseason, which has happened every year in Knights' history, I find my nervousness and energy level approximates that of a Beaver season.
"But for the long haul of the summer, I just love spending summer nights at the ballpark, talking great baseball and watching great baseball. The pace and all of that is conductive to a great summer experience, on the radio and with my family."
He also enjoys exploring the smaller cities of the Northwest and always makes a point of learning as much about the local culture as possible, be it floating down the river in Wenatchee, hiking in Bend, or running through Walla Walla, Bellingham or another WCL outpost.
"The West Coast League is wonderful for travel, with some great cities to visit, a beautiful part of the country," he said. "Until I got into the league, there were a lot of places I'd never seen before.
"I look forward to trips up and down the area. Knights' baseball has been a big part of my life since I've moved here. Goss Stadium in the summer is a great place to be and I'm glad I'll be part of it again."
A graduate of Cottage Grove High School and a 1982 graduate of the University of Oregon with a bachelor's degree in rhetoric and communications, Parker has been honored as Oregon Sportscaster of the Year six times.
He also co-hosts television shows about the Beavers during the school year, and often serves as emcee at other university-related functions.
Mike began his broadcasting career in 1977. He was the voice of the Eugene Emeralds minor league baseball club from 1983 through 1986, and the Oregon women's basketball team from 1983 until 1987.
Parker then moved to Portland, where he served as the play-by-play voice of the triple-A Portland Beavers from 1987-92. He also hosted a show on all-sports KFXX from 1990-95 before moving to KEX to host their Sportsline talk show, and the Fifth Quarter program following Portland Trail Blazers games.
Mike moved to Corvallis in 1999 to take the OSU job. He and his wife, Missy, have two daughters, Lydia and Ellie.
Lydia Parker, an OSU sophomore, assisted Alex Kuhn on Knights' broadcasts in 2014.
"She has a knack for the business of baseball broadcasting and it is a real joy to get to sit next to her in the summer," Parker said. "I'm excited to have that chance again, to have her do some of the pre-game interviews.
"She enjoys that and the guys do too. So I'm looking forward to that being a big part of the summer as well."
The Knights are also seeking a public address announcer to succeed Doug Blair, who is stepping down after three seasons behind the mic, and an on-field announcer to work with promotional activities during home games.
Blair will remain with the Knights as their director of advertising sales. Anyone interested in either position should contact Holly Jones at [email protected] or by calling Holly at (541) 752-5656.