Former Knight Hurler Sam Gaviglio of Oregon State Tosses One-Hitter at Long Beach State.
March 21, 2011
Earns Pac-10 Pitcher of the Week and Golden Spikes National Spotlight Player of the Week Honors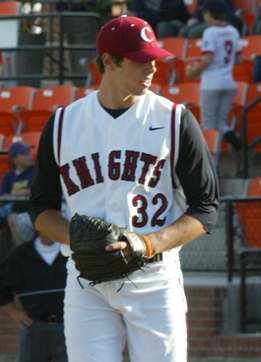 The honors just keep on coming for Oregon State junior pitcher and ex-Knight Sam Gaviglio (pictured).
As a result of his stellar one-hit shutout performance at Long Beach State this past Friday, the right-hander from Ashland, Oregon earned the following honors today: Pacific-10 Conference Pitcher of the Week, Collegiate Baseball/Louisville Slugger National Player of the Week and Baseball America Golden Spikes Spotlight Player of the Week.
This is Oregon State's second Golden Spikes Spotlight honor in as many seasons as former Knights' pitcher Greg Peavey of the New York Mets was honored after shutting out Tennessee in 2010.
Gaviglio took a perfect game into the eighth inning vs. the Dirtbags, and ended the game with just one hit allowed and 14 strikeouts for the 23rd-ranked Beavers (15-4).
Sam faced 28 batters in the win to push his season record to 4-0. He did not walk a batter, threw first-pitch strikes to 24 of the 28 batters he faced and went to a three-ball count just twice. The right-hander struck out the side in the first and third innings and needed just 101 pitches to throw the complete game, which was his second of the season.
In shutting out Long Beach State 4-0, Gaviglio extended his consecutive scoreless innings streak to 38 innings. He has yet to give up an earned run this season - allowing just two unearned runs in the season opener against Gonzaga. He is the only pitcher nationally who has thrown a significant number of innings who has yet to allow an earned run.
Following Sam's terrific frosh campaign at OSU in 2009, Gaviglio made two starts for the Knights and did not allow a run over 13 innings pitched while picking up one win, striking out 12 and walking only one. Unfortunately, his summer season in Corvallis was cut short after those two starts because of injury.
Looking back, the Knights' 2009 staff was full of rising stars including Gaviglio, University of Oregon ace Tyler Anderson and West Coast League Pitcher of Year Matt Andriese of UC Riverside.