Redshirting Makes for an Eager Beaver.
February 24, 2014
OSU Catcher Dane Lund Anxious to Return to Action with Corvallis Knights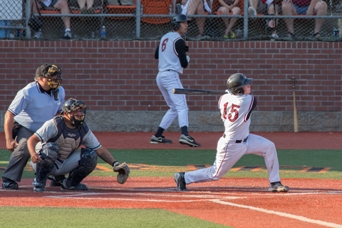 Dane Lund (pictured, #15) will be one very hungry ballplayer this June when he begins his fourth season with the Corvallis Knights.
Why so?
Because he can't play this spring, that's why. The versatile catcher/outfielder from Astoria, a key member of the Knights' 2011 and 2013 West Coast League championship teams, is redshirting at Oregon State this year after transferring from San Jose State. He's not on the 35-man roster, and thus can't take part in games, practices or any other team activities.
"It's really hard not playing," Lund said recently. "I can't remember the last time I didn't play in the spring; since I've been playing baseball the springs have always been full.
"I'm trying to stay occupied with weights, hitting on my own and catching guys when they need bullpens. But it's hard and it's going to be harder the further the Beavers go" in their quest for a repeat Pacific-12 Conference championship and another trip to Omaha and the College World Series.
Normally athletes must sit out a year after transferring from another four-year school. Citing family hardship issues, Lund applied for a waiver that would have granted him instant eligibility, but his request was denied.
"I thought my reasons were good enough for a waiver," he said. "But the NCAA concluded it would stick with the transfer rule and have me sit out a year.
"It's great to be back in Oregon, but it's frustrating. I was here in the fall and made good relationships with everyone. I wanted to be a part of [OSU's 2014] team, but now it's going to happen next year."
Lund said he won't be idle in the intervening months and shouldn't be rusty when he reports for duty with the Knights sometime in June.
"I can meet with coaches, and the redshirts can practice together, with coaches," he said. "We can't lift with the team, but we have scheduled times when the weight coaches can keep training us. There are about nine or 10 of us redshirting, and we can do pretty much do everything, just not with the team."
Had he played this spring, Lund would have completed his eligibility and thus been unable to become the first four-year Knight since the inception of the WCL in 2005. Instead, OSU's loss is the Knights' gain, and coach Brooke Knight is thrilled to have the club's 2013 Most Valuable Player back for another go-round.
"We couldn't be more pleased to have a guy like Dane back in our lineup," Knight said. "He brings leadership, toughness, versatility, baseball savvy and a will to win to any clubhouse, and we're fortunate it happens to be ours."
Dane enjoyed a stellar 2013 summer in with the Knights and was named their Most Valuable Player and first-team all-WCL after helping lead them to their third league title. He hit .343 (48-140) in 46 WCL games, with no homers and 16 RBIs, and tied for second on the team in steals (25-for-26) and sacrifice hits (11).
He led the Knights in hitting and was sixth in the batting race. He had a team-best .452 on-base percentage and struck out just 12 times in 162 total plate appearances. He also had 26 walks.
At San Jose State, he hit .241 (19-79) in 32 games, with a homer and eight RBIs. He played two years at Mt. Hood CC before transferring to SJSU, and was a 2012 all-NWAACC.
Lund anticipates the Knights will again challenge for the WCL title. Nine other 2013 teammates are expected to return and former Astoria High running mate Marc Gallegos will rejoin the club after missing last summer with a shoulder injury.
"I think we are going to be pretty tough," he said. "Every year on the Knights is the best summer I've had. We get super-close really fast, lift together every morning, and just bond.
"I played a lot of outfield last year and I don't mind playing there, I'll play wherever coach Knight thinks is best for the team," he added. "I think in the [2013] playoffs I played more outfield because that's what needed to be done.
"I just wanted to win. But this summer I'd like to focus on catching. I want to play for the Knights to help me get ready to catch for the Beavers."