Knights Outfielder Kyle Nobach of OSU Named First-Team All-WCL.
August 15, 2016
Corvallis Knights Earn Jim Dietz Team Sportsmanship Award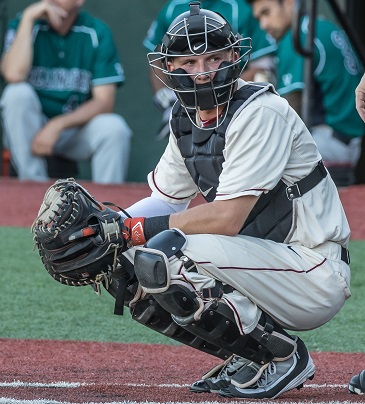 Corvallis center fielder Kyle Nobach of Oregon State earned first-team all-West Coast League honors and catcher Zak Taylor (OSU, pictured), shortstop Andy Atwood (OSU) and starting pitcher Cameron Bishop (UC Irvine) earned second-team recognition on Monday when WCL president Donnie Marbut announced the league's 2016 honors and awards.
Eleven other Knights were named honorable-mention all-WCL. Also, the Corvallis Knights and the Wenatchee AppleSox also shared the Jim Dietz Team Sportsmanship Award.
A rising senior at Oregon State from Marysville, Wash., Nobach hit .303 (46-152) in 41 games, with two homers, 22 RBIs and 16 steals. He had nine multi-hit games, a team-high four triples, was second in on-base percentage (.391) and first in slugging percentage (.434) and OPS (.825) while exceling defensively.
Nobach had at least one base hit in 19 of the Knights final 23 regular-season games, with a nine-game hitting streak and two five-game hit streaks in that span. He did not go hitless in back-to-back games he started all season, and was the MVP of the 2016 WCL All-Star Game.
An OSU sophomore-to-be from Everett, Wash., Atwood hit .308 (53-172) in 46 regular-season games and led the Knights in RBIs (25) base hits (53) and stolen bases (19). He opened the season with an 8-game hitting streak, had at least one hit in 15 of his first 16 WCL games, and had 17 multi-hit games while anchoring the infield.
Atwood started the WCL All-Star Game and was the WCL Player of the Week for June 13-19.
Another OSU sophomore-to-be, Taylor led the Knights with a .309 (43-130) batting average, with a homer, five doubles and 14 RBIs in 40 games. The Sherwood, Ore., native finished sixth in the WCL batting race, one spot above Atwood, and had 14 multiple-hit games.
A rising junior left-handed pitcher from UC Irvine and Brea, Calif., Bishop was 1-3 with a 1.45 ERA in seven games, with 43 strikeouts in just 31 innings.
He was named the WCL's Top Pro Prospect at the All-Star Game, where he struck out the side in a scoreless inning of work.
Eleven Knights earned honorable-mention all-WCL. They are:
* Outfielder Emilio Alcantar of Lewis-Clark State (.213, 0 HR, 14 RBI, 16 steals).
* LHP Trenton Dupre of Washington State (3-0, 0.64, 22 strikeouts, four saves).
* LHP Jacob Fricke of Western Oregon (5-0, 2.88, 25 strikeouts).
* First baseman/DH Roman Garcia of San Diego (.287, 2-23).
* RHP Grant Goodman of San Francisco (1-0, 2.01, 41 strikeouts).
* C Nick Kahle, an incoming Washington freshman (.259, 1-11).
* LHP Aaron Pope of Dixie State (4-2, 2.07, 38 strikeouts).
* INF/OF Taylor Travess of Mount Hood CC (.194, 3-11).
* LHP Hazahel Quijada of UC Riverside (3-0, 0.83, 31 strikeouts).
* LHP Chase Kaplan of Western Nevada, an incoming junior at Kansas (2-2, 2.70, nine saves)
* LHP Ryley Widell, a rising sophomore at Central Arizona who played at Washington State in 2016 (3-1, 2.17, 46 strikeouts).
Incoming UCLA freshman first baseman Michael Toglia of Wenatchee earned Most Valuable Player honors. A 35th selection in the 2016 MLB draft by Colorado, the Gig Harbor, Wash., native hit .306 with a league-best seven homers and 40 RBIs.
Lefty Zach Draper of Yakima Valley earned WCL Pitcher of the Year honors. A rising senior at the College of Idaho, Draper led the league with eight wins and a 0.73 ERA. He was second in innings pitched (71.1).
Victoria's Graig Merritt and Jim Swanson were named Coach of the Year and Executive of the Year, respectively.
Merritt led the HarbourCats to the first-half North Division title, a league-record 40 wins and a league-record 19-game winning streak.
Under Swanson, the team's managing partner, Victoria attracted a league-record 60,446 fans to Royal Athletic Park, an average of 2,239 per outing.
For a complete listing of this season's All-West Coast League teams, please click here.