Mike Parker Returns as Voice of Knights.
January 10, 2013
Award-Winning Broadcaster Back With Club After Missing 2012 Season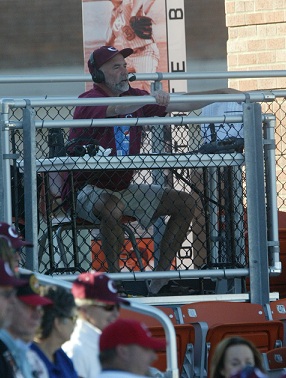 Award-winning broadcaster Mike Parker will return as the play-by-play voice of the Corvallis Knights this summer.
Parker will join the Knights when the Oregon State baseball season is over. He will broadcast all West Coast League home games, select WCL road games, and the playoffs.
"We are absolutely thrilled to have Mike back on the mic this season," Knights' general manager Kerkvliet said. "He is one of the top baseball broadcasters in the country, his voice is well-known throughout the mid-valley and Oregon, and he does a wonderful job of painting a picture of the entire scene at Goss Stadium while describing the action on the field."
Parker originally joined the Knights in 2007 as their first play-by-play announcer and worked for the team through the 2011 WCL championship season. He took last summer off and was succeeded by Kevin Burke, a 2012 Virginia Tech graduate embarking on his professional career. Burke expects to work in affiliated baseball this summer.
A 1982 University of Oregon graduate, Parker began his professional career in 1977. He has also worked for the Eugene Emeralds (1983-86) and Portland Beavers (1987-92) minor-league baseball teams; with the Oregon women's basketball program (1983-87), and with KEX and KFXX radio in Portland (1990-98) before coming to OSU for the 1999 school year.
He and his wife, Missy, live in Corvallis and have two daughters, Lydia and Ellie. Lydia, a Corvallis High School senior who plans to major in communications at OSU, will assist her father on the broadcasts.