Future Knight Southpaw Ben Wetzler of OSU Wins Rubber Game vs. Cal.
May 10, 2011
#2-Ranked Beavers Take Sixth Straight Pac-10 Series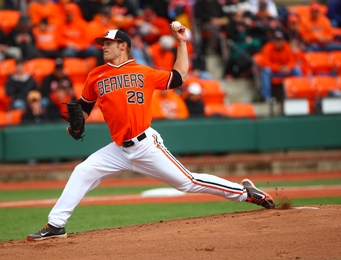 When California second baseman Tony Renda lead off the game by driving Ben Wetzler's third pitch well over the left-field fence, it looked as if it might be a long Mother's Day afternoon for the freshman lefty and his Oregon State teammates.
Instead, it became an unhappy holiday for the Golden Bears.
The former Clackamas High School star and future Corvallis Knight shook off the inauspicious start and handcuffed Cal on one run four hits over seven innings to spark a 4-2 Pacific-10 Conference victory at Goss Stadium this past Sunday.
Wetzler struck out seven, issued no walks, upped his record to 6-2 and lowered his ERA to 3.76 with the premier performance of his fledgling college career.
"Ben settled down and threw very well after the game-opening home run," OSU coach Pat Casey said. "Wetzler, being a freshman pitching in this environment, with what's on the line, was big."
The Beavers were ranked No. 3 by Baseball America heading into the showdown with the then-21st-ranked Bears. Wetzler's gem enabled OSU to win the series and move up to #2 in the rankings, directly behind Virginia. OSU displaced South Carolina, which lost a series at Mississippi this past weekend.
OSU stands 34-11 overall heading into Tuesday night's nonconference home game with Portland at Goss Stadium. With six wins and a save, Wetzler's had a direct hand in seven of those victories and played a major role in OSU's quest for its first Pacific-10 Conference championship since 2006.
"It's a long road," he said. "Every game is important to us. If we win a series at the same time, that's a plus for us.
"We hold our own chips," as OSU holds a one-game lead, and the tiebreaker, over second-place Arizona State with nine Pac-10 games remaining. "We can t look over our shoulder."
Some of his notable accomplishments include:
* A season-best seven innings, against Cal and vs. Hartford in the Beavers' 16-1 victory on March 5.
* A season-high nine strikeouts, in the aforementioned Hartford game. He also had eight strikeouts against Gonzaga on February 20 in his OSU debut and seven against California on Sunday.
* He's also won series finales against Arizona and Stanford; topped VMI in a six-inning start; earned a victory in relief against Seattle, and saved another win over Portland.
* As a result of his performance vs. Cal, Wetzler was nominated for Pac-10 Pitcher of the Week, but was not selected.
Wetzler will be joined on the Knights by fellow Beaver freshmen pitchers Scott Schultz (2-0, 3.18) and Tom Zarosinski, who is redshirting.
Former or future Knights pitchers Wetzler, Schultz, Josh Osich (2008), Sam Gaviglio (2009), James Nygren (2009) and Matt Boyd (2010) are a combined 30-7, with five saves.