Ex-Knight Ace Kyle Kraus of Portland Breaks School Record.
April 27, 2012
Senior Sets New Pilots Career Win Mark with 26 by Beating WCC-Leading University of San Diego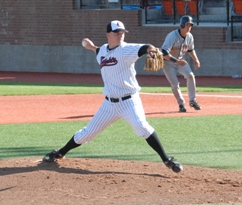 Knights alum Kyle Kraus of University of Portland (pictured pitching at Goss Stadium for Corvallis) made history Friday afternoon at Joe Etzel Field as the senior tossed a complete game versus #16-ranked San Diego to earn his record-setting 26th win as a Pilot.
The West Linn, Oregon native is now UP's all-time winningest pitcher.
Future Knight Caleb Whalen, a frosh from Vancouver, Washington, came up big in the bottom of the eighth, ripping a two-out RBI triple deep into the left-field corner. He then scored on a base hit to give Kraus a couple insurance runs going to the ninth.
Kyle would need both runs as the Toreros scored two runs in the top of the ninth to close within 5-4. But Kraus got the final out on a ground out to short with the tying run on third base.
The complete-game victory put Kyle in the record books making Kraus the winningest pitcher in Pilots history with 26 wins.
Kraus pitched two summers in Corvallis (2009-2010) and collected 11 career wins with the Knights. He was named the Corvallis Knights "Top Pitcher" following his first summer with the team (6-1, 2.24) and led the club in innings pitched both in 2009 and 2010.
Kyle's brother Bryant played on the Knights 2008 WCL championship team.
Kraus is now 6-3 this spring. His ERA is a team-low 1.49 and the right-hander leads the Pilots in innings pitched with 84.2.