Returning Stars Anchor 2014 Knights.
May 27, 2014
Corvallis Hopes to Repeat as WCL Champions for First Time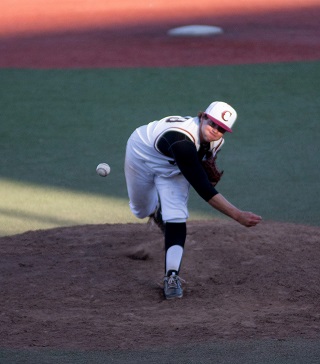 A host of outstanding returnees will anchor the Corvallis Knights quest for a repeat West Coast League championship this summer.
Nine players from the 2013 title club, and another from the 2012 team that took second, should form an excellent nucleus for Brooke Knight to work with in his seventh year as head coach.
"There are a lot of returnees; I can't recall having this many," president Dan Segel said in previewing the 2014 Knights, who begin their eighth summer in Corvallis on June 4 in the team's third annual Science, Engineering & Arts Day nonconference encounter with the Portland Sea Dogs at Goss Stadium (10:30 am first pitch).
"Our pattern has been to encourage returnees," a philosophy not shared by every summer-league program. "It pays dividends to have guys come back and show the new guys how to do it.
"There's a comfort level there. We try not to make it too comfortable, we try to challenge them, but having a lot of returning players helps with leadership."
The list of returning Knights starts on the mound. Right-hander Chris Bishop (pictured) of Pacific Lutheran was second-team all-WCL in 2013 (5-2, 2.66), and he had a strong spring for the Lutes.
Right-hander Brandon Choate (Washington) was also second-team all-WCL in 2013 (1-1, 0.50), when he was second on the team with five saves. He'll be joined again by Husky teammate Alex Nesbitt (2-0, 2.82), who also had a save, and versatile righty Sean Eberhardt (George Fox, 3-0, 2.51).
"Bishop has a live arm and Eberhardt is an innings-eater," Segel said of the Northwest Conference duo. "Choate and Nesbitt are excellent arms.
"Choate could be our closer. He's special. Nesbitt is chomping at the bit to get innings," since he pitched sparingly this spring. "He's got good stuff and can be used in a multitude of roles."
They will throw to a familiar target. Catcher Dane Lund (Oregon State; .343, 0-16, 25 steals), the Knights' 2013 MVP and a first-team all-WCL selection, is back after redshirting at OSU following his transfer from San Jose State. Having not played all spring, he's eager to get on the field.
Familiar faces also dot the infield. Honorable-mention all-WCL first baseman Kevin Kline (Dixie State; .302, 4-34) returns after earning all-PacWest Conference for the Red Storm. Slick-fielding Mike Lucarelli (Portland; .239, 0-6) is back at shortstop and 2012 second-team all-WCL second baseman Marc Gallegos (Corban) is back after missing last season with a shoulder injury.
"Kline had a great junior season," Segel said. "Gallegos is a solid second baseman and Lucarelli is special defensively at short."
Vets Grant Melker (San Diego; .282, 0-9) and Joe Duffin (Cypress CC; .259, 4-15) will man center field and right field, respectively. Melker set the team record with 31 steals and Duffin was second in homers in 2013.
"Center is Grant's position to lose," Segel said. "We're excited about Duff; he'll play because he can hit, and we think he will hit for power this summer. The battle for outfield spots will be very competitive, but Melk and Duffin are guys we know," and they will be available at the start of the season.
Northwest Conference all-stars Chris Haddeland (Linfield) and Derrick Mahlum (PLU) will bolster the pitching staff. Haddeland was a Division III All-American and DIII Pitcher and Player of the Year; and Mahlum was the conference's premier freshman pitcher.
"We've got our best crop of Division III pitchers we've ever had," Segel said. "Haddeland is a pitcher, a technician, a competitor with a resilient arm. He'll do well in the league. Mahlum is exciting; he'll be fun to watch this summer and to follow at PLU in the future as he's a prospect."
Cal Poly freshmen Justin Calomeni and Slater Lee will come aboard as soon as the Mustangs finish up in the NCAA tournament. UC Riverside's Angel Landazuri is another top Big West Conference freshman. All three might start for the Knights.
"Calomeni is a front-line guy," a weekend starter in Cal Poly's rotation, Segel said. "Slater had some success early, and we'll get him going again. Coach Knight is excited about Angel; he could be one of our starting guys.
"Jackson Lockwood (sophomore right-hander from Portland) is a horse, he could really help us too and find his way in the starting rotation."
Rounding out the staff are freshman lefty Joey Wise (Grand Canyon), selected in the 2013 MLB draft by Cleveland; freshman righty Stephen White, effective at Tacoma CC under Knights' pitching coach Connor Lambert, and Seattle sophomore righty Ted Hammond.
Frosh lefty Austin Sodders (Riverside CC) and righties Merrick Patito (Chaffey CC, freshman) and Harrison McGhee (Concordia, sophomore) were late additions after four anticipated regulars, including returnee Stephen Nogosek of Oregon, were shut down for the summer. McGhee was Concordia's ace posting a 1.45 ERA this spring while striking out 96 over 86.2 innings pitched.
McGhee is the probable starting pitcher for the Knights in their WCL opener at Bend on June 6. He is expected to be followed by Mahlum and Haddeland vs. the Elks on Saturday, June 7 and Sunday, June 8, respectively.
"We've always pitched well," Segel said. "This year's staff will throw a lot of strikes," as has been customary under Lambert, who returns for his third summer directing the pitching staff.
Freshman Logan Ice (Oregon State) and sophomore slugger Chris Shaw (Midland CC), an Oklahoma commit, give the Knights a wealth of depth at catcher. Ice's arrival, of course, will depend on how long the No. 1 and top-seeded Beavers last in the NCAA tournament.
"We are extremely fortunate to have three front-line guys at catcher," Segel said. "Logan has done a great job, we've seen him all spring catch a first-rate staff and do a great job defensively.
"It's good we have a lot of catchers to give him a break because he's caught a lot," having started 48 of OSU's 54 regular-season games. "Shaw is exceptional defensively, he's a great receiver and he can hit for power," as he blasted 10 homers this spring at Midland.
"Shaw can play first a bit, as can Logan, and Dane can play the outfield, so we'll have a little rotation going in with the catchers and they will have opportunities to DH too," Segel said, noting that 10-day signee Josh Latta of Tacoma CC also has WCL experience, as he played for Kitsap in 2013.
Other infielders are frosh second baseman/third baseman Alec Smith (Cal Poly); frosh corner man Dan James of Oregon State; sophomore first baseman/outfielder Dalton Kelly (UC Santa Barbara); third baseman Kevin Padlo, a high school senior who will attend San Diego, and 10-day signees Kevin Farley (Portland) and Phil Leopold (Bellarmine).
"Padlo could be a wild card," Segel said. "Everyone I've talked too says he's got power in the neighborhood of Kris Bryant," USD's 2013 college Player of the Year who was the MVP of the 2013 Arizona Fall League after being the No. 1 selection in last June's MLB draft by the Chicago Cubs.
"If you're a Knights fan, you'll want to come out early and see Padlo hit batting practice. I heard he puts on a show."
Scott Quinlan (UC Santa Barbara, junior) and Tim Rausch (Western Oregon, junior) will also battle for outfield playing time. Albany native Jackson Ruckert and Corvallis native Jimmy Clearly, teammates at Linfield, are 10-day signees.
"Quinlan is more of a corner outfielder, a tough kid with some power," Segel said. "Rausch is a scrapper, can play center or a corner and has some pop too. Our outfield is going to be very competitive."
The WCL will have a new look this season, as it's been split into three four-team divisions with the addition of the expansion Yakima Valley Pippins. The three division champions, and the remaining team with the best record, will advance to the playoffs.
Corvallis is in the South Division with Bend, Klamath Falls and Medford. The Knights swept Medford 2-0 in last year's divisional series to advance to the WCL Championship Series, where they also swept Wenatchee.
The Knights finished last season ranked #3 nationally by PG Cross Checker and won their final 14 games on their way to a WCL title, but Segel said this season could be a much tougher battle as the division rivals have bolstered their staffs and teams.
"Bend will be better based on their coaching," as veteran George Fox coach Marty Hunter takes the helm and will be assisted by OSU volunteer assistant Aaron Mathews. "They are stepping it up. Medford will get better players in and Hogie does a super job there.
"And Klamath is always tough, and I like their coach," second-year skipper Mitch Karraker of Oregon.
"Overall, the league is getting tougher and tougher. The breadth of talent is better. I don't know if we are getting more big-time prospects, but there's a depth to the league we didn't have before."
2014 KNIGHTS AT A GLANCE
HEAD COACH: Brooke Knights (seventh year).
ASSISTANTS: Pitching coach Connor Lambert (third year); assistant coach Skyler Riley (first year).
PITCHERS: Chris Bishop (PLU); Justin Calomeni (Cal Poly); Brandon Choate (Washington); Sean Eberhardt (George Fox); Chris Haddeland (Linfield); Ted Hammond (Seattle); Angel Landazuri (UC Riverside); Slater Lee (Cal Poly); Jackson Lockwood (Portland); Derrick Mahlum (PLU); Harrison McGhee (Concordia); Alex Nesbitt (Washington); Merrick Patito (Chaffey); Austin Sodders (Riverside CC); Stephen White (Tacoma CC); Joey Wise (Grand Canyon).
CATCHERS: Dane Lund (Oregon State); Logan Ice (Oregon State); Chris Shaw (Midland JC).
INFIELDERS: Marc Gallegos (Corban); Dan James (Oregon State); Dalton Kelly (UC Santa Barbara); Kevin Kline (Dixie State); Mike Lucarelli (Portland); Kevin Padlo (San Diego in 2014-15); Alec Smith (Cal Poly).
OUTFIELDERS: Joe Duffin (Cypress CC); Grant Melker (San Diego); Scott Quinlan (UC Santa Barbara); Tim Rausch (Western Oregon).
10-DAY SIGNEES: P Michael Kelly (Clackamas CC); C Josh Latta (Tacoma CC); INF Kevin Farley (Portland); INF Phil Leopold (Bellarmine); OF Jimmy Cleary (Linfield); OF Jackson Ruckert (Linfield).