Knights Wrap 2012 Recruiting.
October 3, 2011
Corvallis Returns 13 Players Including Sophomore Outfielder Cade Gotta of Riverside CC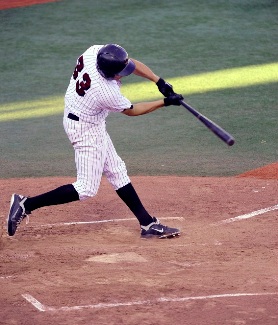 The Corvallis Knights are about midway through the signing process for the 2012 season and all indications are they should compete for a repeat West Coast League title.
Nine players from last year's 45-18 club, including All-WCL closer Mark Trentacosta of UC Irvine and hard-hitting right fielder Cade Gotta (pictured) of Riverside CC, are slated to return and have signed summer contracts. More veterans will be added before the projected roster is finalized later this year.
"We will have a good mix of veterans and some of the top returning and incoming talent from our partner schools," Knights' president Dan Segel said.
"We have expanded our talent pool with the addition of Texas as a partner school, and with our new connection with UC Santa Barbara and its new coaching staff with strong ties with the Knights.
"Good pitching has always been a Knights' hallmark and there was no better closer in the WCL last season than Trentacosta," a lefty who saved a franchise-record 11 games.
"Cade Gotta really came on as the summer progressed, and we believe our other returning players will again play valuable roles on what we think will be a contending club our fans will really get behind."
Trentacosta went 3-1 with a 1.44 ERA in 20 WCL regular-season games, with nine saves. He had two more saves against Bend in the WCL Divisional Series to establish the team record; he allowed only one run over 23 total relief appearances and appeared in the WCL All-Star Game.
Gotta hit .339 with a homer and four RBIs in 22 regular-season games, and then hit .353 with four RBIs in the WCL playoffs.
Santa Clara junior pitcher Chris Mendoza is back for his third summer. He went 2-0 with a 3.14 as a starter/reliever in 2011 in 28.2 total innings.
Oregon sophomore Connor Hofmann, a part-time starter who hit .317 over the final 12 games in helping the Knights to the championship, returns. Hoffman hit .230 (overall), stole 13 bases and covered ample ground in center field.
Outfielder Matt Nylen, now a junior at Western Oregon after two seasons at Mt. Hood, and Mt. Hood CC sophomore Dane Lund are back. Nylen had a team-high 17 steals and hit .238 (0-19); the versatile Lund caught and played outfield and hit .259, with four RBIs.
Also making an encore are two infielders and an outfielder whose 2011 seasons were cut short by injury: Mt. Hood CC sophomore shortstop Alex Foulon, who hit .298; sophomore outfielder Nathan Blackham of Washington State, who hit .316 (19 at bats); and Seattle University junior third baseman Nate Roberts, a 2010 WCL star at Moses Lake, who was limited to two games in 2011 by a wrist injury.
The Knights also expect junior pitchers Max Beatty of Pacific Lutheran, Kyle Hart of Redlands, Chris Johnson of University of Portland, and sophomore pitcher Dylan Stuart of UC Riverside to return. All four players and their respective coaches have made verbal commitments.
The newcomers so far are:
- Sophomore infielder Alex Silver and sophomore pitchers Justin Peters and Trevor Teykl of University of Texas.
- Oregon freshmen pitchers Sam Johnson (6-0, 180) of Westview High and Cole Wiper (6-4, 180) of Newport High in Bellevue, Washington.
- Freshman right-handed pitchers Michael McCall of Oregon State and Justin Fischer of UC Santa Barbara, whose new head coach (Andrew Checketts) and new assistants (Jason Hawkins, Eddie Cornejo) all either coached or played for the Knights.
- Austin Barr of Camas (Wash.) High School, a catcher who has already committed to Stanford for the 2013 season.
- First baseman/outfielder Nick Torres and outfielder Alex Michaels, the latest recruits from our Cal Poly pipeline that has already produced major-leaguers Brent Morel and Bud Norris and last year's Knights' MVP, David Armendariz.