UConn-bound Joe Duffin Having Big Summer.
July 20, 2014
Returnee to Represent Knights in 2014 WCL All-Star Game HR Derby in Klamath Falls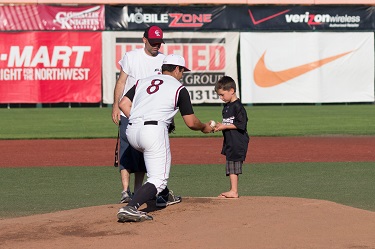 Joe Duffin (pictured during a first pitch at Goss Stadium) came prepared to make the most of his second summer with the Corvallis Knights.
And so far, the 20-year old first baseman/right fielder/designated hitter from Santa Ana, Calif. and Cypress College has not disappointed. His booming bat is a big reason the Knights again sit atop the South Division standings at the West Coast League's all-star break.
"My first season [2013] it was hard to get into a groove because I hadn't played at all" as a freshman at UC Santa Barbara before heading north, the 6-foot-1, 225-pounder everyone calls "Duff" said following batting practice before the Knights' July 16 game against the NCBL Portland Stars.
"I only had 11 at-bats (at Santa Barbara)," he added. "Eleven at-bats definitely did not let me get into a groove, did not let me get my timing correct."
So he transferred to Cypress in search of more playing time. Smart move. He hit .336 with 13 doubles, five homers, 32 RBIs and 20 runs scored, was named a first-team Orange Empire Conference all-star, and earned a scholarship to play his final two seasons at the University of Connecticut.
"I got 118 at-bats at Cypress, and that definitely helped. I got hot early, kept it going and was consistent," he said. "The at-bats, the atmosphere, and being on the field every day definitely helped me.
"Having a great season will help anybody have confidence. So this year, as soon as I got here I was ready to play. Cypress let me use a wood bat in a metal-bat league, so I hit with wood from the moment I got on campus last fall until I left for Corvallis this June.
"There was no adjustment at all."
Duffin had a solid season with the 2013 Knights, hitting .264 (28-106) in 41 total games, with a team-high five homers and 23 RBIs. But he's already surpassed those totals this summer, mostly because his great spring at Cypress let him hit the ground running come summer.
Joe had four hits in Game 2 and a homer in Game 3 at Bend to start the season. He went deep in every game in a June 14-16 series at Walla Walla and then banged two more homers last week in his first three games back in the lineup following a left-wrist injury that sidelined him for about 10 days.
He's hitting .277 (31-112) in 34 total games, with six homers and 26 RBIs. And is tied with Kevin Kline for the team lead in homers and is second in the WCL with five homers in league games.
Those numbers earned him a berth in Monday night's All-Star Game Home Run Derby at Kiger Stadium in Klamath Falls. This is Duff's second ASG Home Run Derby experience as he represented the Knights last summer in Victoria.
He said his wrist - originally sprained against Wenatchee in late June, and re-aggravated in a collision at Klamath Falls on July 4 = is about 85 percent healed. He's still rehabbing it, but he's glad to be back on the field.
"It's tough to just sit there," he said. "The only thing you can do is cheer on your teammates, so that's what I did.
"The hardest thing about sitting out was, I was helping my team offensively, and was an intimidating factor in the lineup. Our lineup has been so scary for opposing pitchers to face, and if you take one component out, it's easier to face us and have a good outing.
"I was totally fine with sitting there and helping my teammates, but I definitely wanted to be on the field doing everything I can to help us win. Players want to play."
UConn may seem to be a strange destination for a Californian, but nothing happens by accident. Cypress head coach Scott Pickler also coaches the Yarmouth-Dennis Red Sox in the Cape Cod League in the summer and thus has strong ties to coaches in that part of the country.
"He definitely helped me get on the map," recruiting-wise, Duffin said of Pickler. "He has a lot of connections through the Cape Cod League and he knows almost every coach in the nation.
"He already had a connection with UConn through Blake Davey," a Cypress alum from Newport Beach, Calif., who transferred there for the 2013-14 season and hit .313 with 10 homers.
"I had better stats than [Davey] did at Cypress, and because of what he did at UConn they wanted another power guy. I think they are excited about it.
"I've been a power guy all my life. I'm not going to beat out a ground ball, unless it's bobbled. I am expected to hit for power. That's what UConn saw in me, and that's why I'm going there."
Duffin has never been to Connecticut, but he's made frequent visits to the Northeast to visit family. His mother has relatives in the Providence and Boston areas, both of which are close to Storrs.
"I'm only 45 minutes away from family," he said. "I have cousins out there who idolize me as a player, but they have never seen me play. Now they'll be able to."
Connecticut may be a cold-weather school but it has an excellent baseball pedigree. Houston Astros outfielder George Springer, Chicago Cubs third baseman Mike Olt and Arizona Diamondbacks infielder Nick Ahmed are alums. So are Pawtucket (AAA International, Red Sox) pitcher Matt Barnes and St. Lucie (A Florida State, Mets) second baseman LJ Mazzilli, the son of former big-leaguer Lee Mazzilli.
"It's a real exciting program, and I am excited to be part of it," Duffin said. "I've played in cold weather before, but it was California cold, probably about 50 degrees, not Connecticut cold.
"But our first 27 games are on the road and it's going to be nice and warm in Florida. So I'm not complaining about that."
And, after a spate of bad luck and setbacks, he's thrilled he'll have some stability the next two seasons at UConn.
"I've gone through adversity with injuries and not being able to play every day," he said. "It has definitely helped me mature as a player and grow as a person."