Bre Kerkvliet Earns Junior First Citizen Award.
March 11, 2013
Knights' GM honored by Albany Chamber of Commerce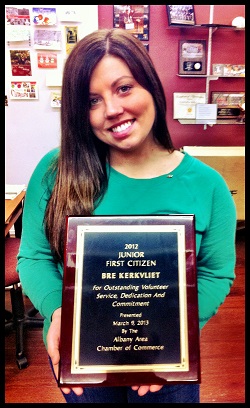 Bre Kerkvliet (pictured), the general manager of the Corvallis Knights, was named Albany's Junior First Citizen on March 9 at the Albany Area Chamber of Commerce's Distinguished Service Awards banquet.
More than 400 people attended the 68th annual event, held at the Albany Boys and Girls Club. The other finalists were Shelly Boshart of Boshart Trucking and Chrystal Hart of Edward Jones; each finalist was nominated for her energy, support, leadership, and commitment to Albany and its citizens.
"It's a little more overwhelming than I had thought," to win the award, said Kerkvliet, who became the first female general manager in West Coast League history when she was promoted to the position in Aug., 2012. "The chamber of commerce here is the best in the mid-valley."
Kerkvliet is a member of the 2013 Leadership Corvallis class. She also belongs to Rotary, and serves on the boards of several other mid-valley charitable organizations. She is the co-founder of Women in Networking, and an active member of the chamber's Young Professionals.
A Corvallis native and graduate of Corvallis High School and Oregon State, Kerkvliet joined the Knights as an intern in 2007 and has worked for the team in various capacities ever since.
"It's great that Bre has been honored in this fashion and we're very proud of her involvement with the Albany Chamber of Commerce and with other service organizations in the area," Knights' president Dan Segel said.