Susac Returns to Corvallis a Champion.
February 6, 2015
Knights' Alum Andrew Susac Pays Visit to OSU for Diamond Dinner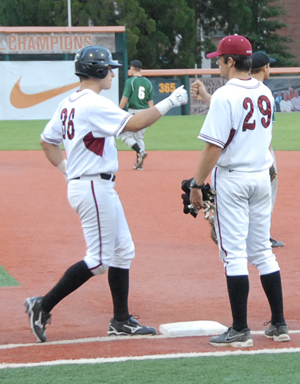 2014 was a two-ring year for San Francisco Giants catcher Andrew Susac (pictured in 2009 with first base coach Travis Hanson of the Knights), the budding major-league talent who spent his 2009 summer with the Corvallis Knights before enrolling at Oregon State.
He earned a World Series ring when the Giants knocked off Kansas City 4-3 in the Fall Classic for their third championship in the past five seasons. A key backup to superstar Buster Posey, Susac hit .273 in 35 games, with three homers and 19 RBIs.
He handed out a ring as well. He and former OSU softball star Maggie Doremus, his sweetheart since their college days, were engaged recently and will be married later this year.
Back in Corvallis recently for the annual OSU Diamond Dinner, the personable 24-year-old from Roseville, Calif., recently was named the No. 1 prospect in the San Francisco organization by Baseball America.
"My life hasn't changed, but things have gotten a little more glorified," he said when asked how things are different than a year ago at this time. "I got engaged, that's probably the biggest change for me.
"And, I won a World Series in my first year; not a lot of guys can say that. It's been a sweet roller-coaster ride. It was real hectic after the World Series, but it's starting to cool down now."
Susac and teammate Matt Duffy, a 2010 Knights' infielder from Long Beach State who also made his MLB debut in 2014, were in the Giants' dugout when third baseman Pablo Sandoval gloved a foul popper for the third out to end the World Series.
He said the whirlwind three-month period that started with his promotion to the majors and ended with a World Series championship and a ticker-tape parade through downtown San Francisco was almost surreal.
"It's amazing, I can't even put it into words," he said. "I almost didn't have enough time to soak it all in, because I was only up there for three months.
"It kind of hit me quick, that 'Hey, we're in this for real, we're in the playoffs.' It was kind of a blessing in disguise because you don't have time to get nervous.
"You're experiencing all the top pressure levels you can get to. It was just unbelievable. The competiveness of the guys I play with is a different level up there."
His callup to the Giants capped a steady four-year progression through their minor-league system. Selected in the second round of the 2011 draft as the 86th overall pick, he agreed to a $1.1 million signing bonus late that summer and started his pro career with San Jose in the Class A (advanced) California League in 2012.
He moved up to Richmond in the double-A Eastern League in 2013, to Fresno in the triple-A Pacific Coast League in 2014, and then to the Giants in July.
Susac said it took some time for the 'Am I dreaming?' phase to wear off.
"For the first week it was pretty sweet, walking out there in AT&T Park, a beautiful field, and the [charter] flights are awesome," he said. "It's definitely a big-time upgrade."
One he deserved, for sure.
Susac's average improved at every stop in his minor-league career, from .244 at San Jose to .256 at Richmond to .268 at Fresno and to .273 with the Giants.
His strikeouts have also decreased dramatically as he's moved up the ladder. He fanned 100 times in 361 at-bats at San Jose, but whiffed just 50 times in 213 at-bats at Fresno.
That's not to suggest, however, that pro baseball is easy, or that he has everything even remotely close to figured out. He knows that everything must be earned at the big-league level, every year, that there are many in the farm system fervently chasing what he has.
"Absolutely," he said. "That's the nature of the beast. Nothing is given here, you have to make sure you're getting after it in the off-season and are ready to compete when spring training comes."
Andrew said the jump to pro baseball from the Pacific-12 Conference was similar to the one he made from Jesuit High School to the Knights in 2009 after spurning an offer the Philadelphia Phillies, who took him in the 16th round of the 2009 draft.
"It was a big adjustment," playing with, and against, college-level talent in the West Coast League, he said. "I was younger and that was my first experience with some guys who could really play.
"It was like going to A ball out of college; it was a big jump but at the same time, it's eye-opening. Walking into the major-league clubhouse at AT&T Park was just how I felt when I came here (to the Knights) my first year."
Susac earned honorable-mention all-WCL honors with the Knights and was named the league's top pro prospect by Baseball America. He also earned Pac-12 all-league honors with the Beavers after heading on to OSU.
Andrew will arrive at San Francisco's spring training camp in Scottsdale, Ariz., on Feb. 15, four days ahead of his required reporting date. He's been practicing in the batting cage and catching some local pitchers who play professionally to stay sharp back home in California.
"I'm doing my same routine, and making little adjustments as we go," he said. "If it ain't broke, don't fix it. I'm just trying to get better."
Susac never played with Duffy in the minors but they've spent some time swapping stories since moving up to San Francisco.
"We talk about playing with the Knights all the time," he said. "Summer ball is fun. You develop good relationships with guys.
"He talks about playing at Corvallis and how cool it was," Susac said. "It is fun to compare stories and really get a feel for what each player got to do."