Corvallis Ace Cameron Bishop of UC Irvine Named #2 Prospect in WCL.
September 1, 2016
Southpaw Chase Kaplan of Kansas Rated #10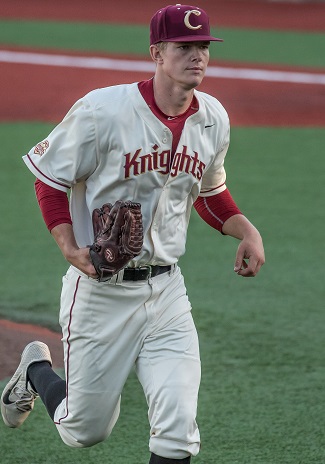 Baseball America released its West Coast League top ten prospects lists this morning. Knights pitchers Cameron Bishop of UC Irvine and Chase Kaplan of Kansas (pictured) made the list.
Bishop was ranked #2 while Kaplan came in at #10.
Both are juniors-to-be and were returning players in 2016.
Bishop was rated the top prospect at the 2016 WCL All-Star Game as voted on by the MLB scouts in attendance. He finished the season with an impressive 1.80 ERA with a team-high 56 strikeouts over 40 innings pitched.
Kaplan led the Knights in saves with 10.
For a complete listing of Baseball America's top ten WCL prospects, click here.