Former Knight Gets September Call Up.
September 3, 2015
San Diego Padres Add Catcher Rocky Gale to Roster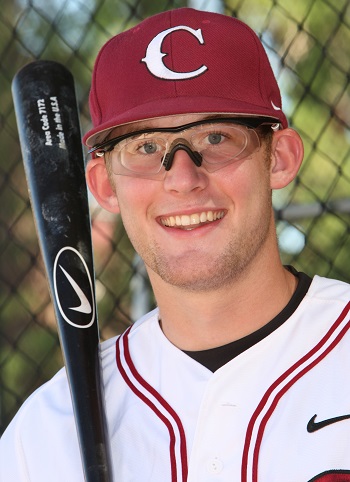 Rocky Gale (pictured) is living proof that long shots sometimes do come in, that even your wildest dreams can come true.
That was proven true on Sept. 2, when the San Diego Padres recalled the former Corvallis Knights catcher (2007, 2009) to the major leagues from triple-A El Paso of the Pacific Coast League.
Gale was called up to the big leagues for the first time to replace veteran catcher Derek Norris, who hyperextended his left elbow and shoulder on Sept. 1 in a home-plate collision with Texas third baseman Adrian Beltre. Norris sprained the AC joint in the same shoulder in July but did not go on the disabled list.
Considered a strong defender, Gale was hitting .307 at El Paso, with one homer and 39 RBIs. He also threw out 35 percent of would-be base-stealers this season.
The promotion culminated a five-year, 414-game roundabout journey through all five levels of the San Diego organization. Selected by the Padres in the 24th round of the 2010 draft after a four-year stay at the University of Portland, Gale started his pro career with Eugene in the short-season Class A Northwest League that summer and has been a minor-league nomad ever since.
Like the late country singer Johnny Cash, Gale has been everywhere in pursuit of his big-league dream.
Besides Eugene, the 27-year-old Salem native also played in Lake Elsinore (2011) in the California League; in Tucson (2011-13) in the PCL; in San Antonio (2011-13) in the Texas league, in Fort Wayne (2011) in the Midwest League, and then in El Paso (2014-15) when San Diego relocated its PCL franchise from Tucson to West Texas for the 2014 season.
He played at single-A, double-A and triple-A in 2011 and 2012 and at double-A and triple-A in 2013 before finally finding a home with the Chihuahuas. A good-field, no-hit catcher for his first three years in pro ball, Gale blossomed in El Paso's desert air and hit .307 (169-551) in 179 games the past two seasons, with a homer and 75 RBIs.
In an interview with his hometown paper earlier this summer, Gale told the Salem Statesman Journal that he enjoyed the lifestyle and challenges of minor-league baseball.
"It's nice to be in a profession where you're continually trying to grow. You keep your head down and keep trying to make steps," he said.
"I know that I won't get to be a baseball player for the rest of my life. I want to take full advantage of the small window of opportunity I have to keep playing the game and have fun."
Gale moved to Keizer from Yoncalla in middle school and graduated from North Salem High School in 2006. He was selected by Kansas City in the 49th round of the 2006 MLB draft after a standout career with the Vikings, but he signed with Portland instead.
He was a four-year letterman and he was named the West Coast Conference's Defensive Player of the Year, and a first-team all-star, as a senior. He threw out 18 of 23 runners attempting to steal that season, for an NCAA-best .782 percentage.
With the Knights, Gale hit .253 with 14 RBIs in 2007 and .220 with 8 RBIs in 2009. He was exceptional defensive catcher for Corvallis; and was the team's starting catcher in 2007 (42 starts) and shared catching duties with future big leaguer Andrew Susac in 2009 (23 starts). He is the fourth former Knight to make it to the majors this season, joining San Francisco pitcher Josh Osich (2008); Detroit pitcher Matt Boyd (2010), who broke in with Toronto, and Tampa Bay pitcher Matt Andriese (2009), a former teammate of Gale's on the Knights and in the San Diego organization.
Seven other alums have appeared in major-league games this season: Matt Duffy (2010) and Andrew Susac (2009) for San Francisco; Brent Morel (2006-07) for Pittsburgh; Matt Hague (2005) for Toronto; Bud Norris (2005) for Baltimore and San Diego; Chris Stewart (2001) for Pittsburgh, and Marc Rzepczynski (2006) for Cleveland and San Diego.