Knights Introduce New Assistant Coach for 2012.
March 6, 2012
Corvallis Hires Alum Andy Jenkins of Oregon State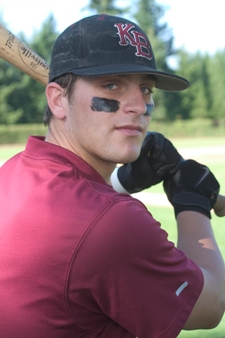 Andy Jenkins (pictured, 2003 Aloha Knights trading card) had a knack of delivering in the clutch during his lengthy playing career. He often was the guy who had the key hit, or who made the key play defensively when the game was on the line.
Now, the former college and minor-league standout will share the skills that helped him thrive under pressure with the Corvallis Knights. Coach Brooke Knight on Tuesday named Jenkins as the team's new assistant coach for the 2012 season.
"My experiences in my career will really benefit me as a coach, no question," said the 28-year old Jenkins, who this spring is working as an undergraduate assistant at Oregon State while finishing his degree.
"I've played at just about every level since T-ball, falling short of a big-league dream, and have few regrets.
"I've learned from many great coaches and teammates, and found out a great deal about myself as a player and a person.
"I've enjoyed success and was challenged often with adversity. This game will teach you how to be a man if you let it. I really look forward to coaching up ballplayers, and continuing to learn myself as a coach."
Jenkins succeeds Billy Clontz, who resigned after the 2011 season to accept a similar position with the WCL-rival Klamath Falls Gems.
Jenkins joins Knight and second-year pitching coach Connor Lambert on the staff.
"We are excited to add Andy to our coaching staff," said Knight, who has returned to the United States after coaching the Perth Heat to their second consecutive Australian Baseball League championship.
"Andy is familiar with the Knights, the Corvallis landscape, and our high expectations.
"I believe Andy's energy and confidence will resonate with our players. I look forward to working towards another championship with a guy who understands what it takes to get there."
Jenkins said he aspires to be a coach who creates an environment where the players enjoy coming to the ballpark each day, eager to work hard and improve. It's also important they have fun.
"I see a lot of baseball players put significant pressure on themselves and that makes it very hard to play at times," he said. "I want to be a coach who demands a good balance of work ethic, teamwork, and an appreciation of being able to play this game each day. Always respect the game.
"I think every athlete who puts in the time to get better every day is always rewarded one way or another, whether it is on-the-field success or learning valuable life lessons along the way.
"Regardless of a player's ability, it's important to me they all have the mindset to 'overachieve.' I always admired teammates and players who maximized their potential. There's a special feeling in athletics knowing you had no regrets, and put yourself out there to gain any edge you could. It allows you to have a clear mind at the end of the day and that's important. If you play the game hard and hustle, positive things will happen."
Jenkins brings a long and distinguished baseball pedigree to the Knights, the defending WCL champions. He starred at South Salem High School, Mt. Hood Community College and Oregon State, and played two complete summers with the Aloha Knights, before embarking on a six-year minor-league career in the Florida and Texas organizations.
A two-year letterman at OSU (2004-05), Jenkins hit .343 in 98 games, with 12 homers and 86 RBIs. As a senior in 2005, he capped his career by helping lead the Beavers to the Pacific-10 Conference championship and their first College World Series berth in 43 years.
Jenkins hit .388, with a team-high 56 RBIs, and was a first-team Pac-10 all-star that spring. He was named All-Corvallis NCAA Regional, hit for the cycle in a 10-8 victory over USC in the decisive Game 3 of the Corvallis Super Regional, and batted a team-best .459, with two homers and 13 RBIs, in eight postseason games.
Taken by the Florida Marlins in the 11th round of the 2005 MLB draft, he spent four years in their minor-league system before being selected by Texas in the 2009 Rule 5 draft. With the Rangers, he reached triple-A with Oklahoma City in 2009 and 2010 before retiring in March, 2011. Jenkins hit .268 in 606 career minor-league games, with 32 homers and 277 RBIs.
He was a 2003 All-NWAACC selection at Mt. Hood, and earned the Saints' MVP award after hitting .358.
Andy played for the Knights from 2002-04, following his freshmen and sophomore years at Mt. Hood and after his junior season at OSU. A starter in 2003, and on the 2004 club that won the National Baseball Congress World Series at Wichita, Jenkins hit .278 in 93 total games, with two homers and 55 RBIs.
That time with the Knights helped him get to OSU, and eventually professional baseball.
"I was a Junior College guy with hopes of getting a D1 scholarship," Jenkins said. "During my two summers with the Knights I was able to size myself up against D1 players I played around.
"I played with and against a number of very good players while winning a summer national championship in 2004. A few of my teammates those summers, I ended up playing AAA ball against down the road. A lot of former Knights have been able to extend into pro ball and eventually the big leagues. That's pretty special."
Jenkins and his fiancee, Jessica McGee, are engaged to be married in Feb., 2013.