Corvallis to Australian Baseball League Pipeline Continues to Flow.
December 8, 2015
Former Knights Devon Barker and Scott Quinlan Shine with Adelaide Bite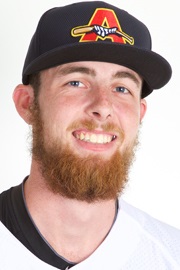 Alums Devon Barker (pictured) and Scott Quinlan are the latest in the long line of Corvallis Knights to make their mark in the Australian Baseball League.
Barker, a left-handed pitcher who played for the Knights in 2012 and 2013, and Quinlan, an outfielder who energized the 2014 club with his aggressive baserunning, are playing for the Adelaide Bite.
Formerly managed by Knights' skipper Brooke Knight, the Bite are the defending ABL regular-season champions and are consistently one of the top clubs in the six-team circuit, which is partially funded by Major League Baseball.
A relief specialist who played at Centralia College and at Central Washington, Barker is 1-0, 5.02 in 10 games, with seven strikeouts in 14.1 innings.
Quinlan, who played at UC Santa Barbara, is batting .182 (2-11) in four games, with a homer and four RBIs since going on the active list upon recovering from a shoulder injury.
His homer, a three-run jack against Sydney on Dec. 4, gave the Bite a 6-3 win over the Blue Sox.
Adelaide is presently in fourth place in the ABL, 5.5 games behind the league-leading Canberra Cavalry. The Bite open a weekend series at Melbourne on Thursday.
Barker had not pitched since his second season with the Knights, when he was 3-2 with a 3.58 ERA and a save in 13 appearances for the 2013 West Coast League champions.
"Devon contacted me last spring to let me know he had interest in revamping his baseball career," Knight said. "This didn't surprise me in the slightest. He has always been a fearless competitor and a guy you really want to hand the ball to towards the end of the game, when the walls are caving in.
"I'm guessing his time away from the game, along with his burning desire to compete, have improved his pitching mentality even more and his results have been really good. I've had some great feedback from the guys on the club as well and they really enjoy having him on the team.
Quinlan concluded his college career this past spring by hitting .196 (11-51) for the Gauchos. He appeared in 34 games, but had only 51 at-bats and thus did not match his productive 2014 campaign, when he hit .265, with a homer, nine RBIs and 17 stolen bases.
Knight said they worked together to find Quinlan, a native of Danville, Calif., who also played at Chabot Junior College, an ABL roster spot.
"He came in a little late and most club rosters had been filled," Knight said. "But he was persistent, we forged ahead and finally landed him a spot.
"He had an early shoulder injury, so he was unable to really be seen much by the Bite. Now he is healthy and putting up solid numbers. His energy is off the charts and I was thrilled to see him get the call up to the Bite and come through with a huge three-run home run this past weekend.
"I am really happy for both of these guys. Both play the game hard, without fear, and compete their tails off."
The Knights have a long history with the ABL. Knight managed the Perth Heat to the 2011 and 2012 ABL championships, then returned to skip the Bite in the second half of the 2014 season and in 2015.
Alums Eric Massingham (2006-07), Liam Baron (2008-09), Alex Burg (2008), Dylan Jones (2009-10), Colin Feldtman (2013), Adam Melker (2008-09) and Rocky Gale (2007, 2009) have all played all or parts of a season in the ABL, that country's premiere professional baseball competition.
The ABL features a 45-game season. Teams consist of elite Australians, and players from Major League Baseball affiliate teams and from the professional leagues in Japan, South Korea and China.