Knights' Alum Kavin Keyes of #2-Ranked OSU Stays Positive Despite Bad Break.
April 30, 2014
Injury Sidelines Senior Hit Machine for Likely Rest of Regular Season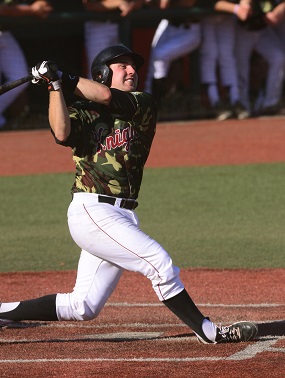 Knights' alum Kavin Kayes (pictured taking a big swing at Goss last summer) is trying to stay upbeat while recovering from a broken left thumb that could sideline the Oregon State corner infielder for 5-to-6 weeks of his final season in college baseball.
A late but oh-so-valuable addition to the Knights' 2013 West Coast League championship club, Keyes sustained the injury while making a tag in an 8-1 victory at Washington State on April 13. He hopes to return to active duty by May 23-25, when the Beavers conclude the regular season with a series at USC.
"It's tough, the injury came at a bad time," Keyes acknowledged. "But the big thing is to stay positive, stay with my team and my teammates, and help out whenever and wherever I can.
"I just have to wait for it to heal. If anyone needs help I'm there at practice and can do some simple things that don't involve me catching the ball. I just want to be doing something; I don't want to be standing around.
"I want to stay busy and keep helping to put smiles on people's faces."
The fracture was a devastating blow for the 5-foot-11, 183-pound switch-hitter from Alta High School in the Salt Lake City suburb of Sandy, Utah. He was hitting .325 (40-123) in 34 games, with a homer and 19 RBIs as a combination first baseman (25 starts) third baseman (5) and catcher (2).
"I was happy with the way [the season] was going," he said. "As a team we were going pretty well, we had some stretches where let a game slip but we were playing well.
"I hope we can keep that going and hope when I get back we can keep that going."
Keyes will leave Corvallis as one of the premier hitters of the Pat Casey coaching era. He has a .291 lifetime average, and ranks fourth all-time in at-bats (694), eighth in hits (202) and ninth in doubles (37).
Those numbers will grow in the final weekend of the season and in the NCAA tournament. OSU took a huge step toward securing its sixth consecutive postseason berth - and extending the season should Keyes' recovery take long that anticipated - by sweeping Oregon this past weekend to assume first place in the Pacific-12 Conference.
Keyes spent last summer in Corvallis rehabbing a troublesome left shoulder and joined the Knights on July 31, just in time to be placed on the playoff roster. He contributed immediately and hit .304 (7-25) with six RBIs in eight games down the stretch to help the Knights capture their seventh consecutive regular-season division title.
He got even hotter in the playoffs. Keyes was 4-for-4 in an 8-6 victory at Medford in Game 1 of the South Divisional series, and went 2-for-4 with a homer and two RBIs the following night in a 7-3 win over the Rogues that advanced the Knights into the WCL Championship Series against Wenatchee.
Keyes then had three hits and scored once in a 3-1 victory at Wenatchee in Game 1 of the Championship Series before finally cooling off as the Knights edged Wenatchee 1-0 in Game 2 for the title. All told he hit .600 (9-15) in the postseason, with a homer, a double, two RBIs and three runs.
"That was probably one of my better stretches" in his career, he said. "I don't know if I've ever had a stretch like that before.
"I had a lot of fun," with the Knights. "We had a lot of great guys and made a great run, so that was a lot of fun."
And there's a very good chance Keyes could become another in the long line of Knights' alums in affiliated baseball after the June 5-7 MLB draft. He wasn't selected in 2013, but that didn't really matter as he planned to return to Oregon State for his senior season all along.
There's nothing to hold him back this year, however. So he's hopeful someone will take a shot on him so he can have his shot with the pros.
"If the opportunity arises I would love to play pro ball," he said. "It's something I've always wanted to do. It's a dream or goal for everyone who plays at a high level."