Knights Loss OSU's Gain.
January 4, 2017
Corvallis Head Trainer Jeremy Ainsworth Now Working for Beavers Baseball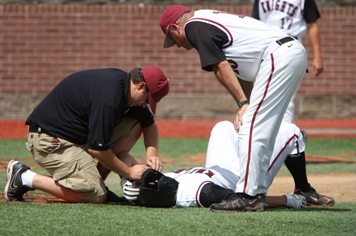 Jeremy Ainsworth will still spend part of his summer at Goss Stadium.
This year, however, he'll do it as a fan. The personable, outgoing trainer has stepped down after a decade with the Corvallis Knights to focus on his new position as an athletic trainer at Oregon State.
"The whole family will be coming to games all summer," the Monmouth resident said this week, when asked if he, his wife Melanie and children Cassandra and Cyrus still planned to be regulars at a ballpark that was Jeremy's home away from home for the past 10 summers.
"You can't beat it."
Ainsworth joined the Knights after they relocated to Corvallis from Gresham for the 2007 season. He was responsible for game training, medical coverage, treatment, and coordinating additional care for the Knights. He often helped out the opposing team as well, if asked.
"Players, coaches and staff loved working with Jeremy," said Dan Segel, CEO and chairman of the board of Knights Baseball Club, Inc. "I know I will miss his positive outlook and great smile.
"He was always a big part of the team. He always made us look good as he did an extraordinary job caring for our student-athletes. He did an excellent job working with our coaches.
"Jeremy will be a tough one to replace. We've had the great fortune to have the absolute best head trainers in Joel Marick (2000-2006) and Jeremy Ainsworth (2007-2016)."
Added head coach Brooke Knight.
"We are really going to miss Jeremy and his contribution. We are really happy for him as well. Our goal is to develop, promote, and move ahead, and it looks like we have hopefully played a role in his progression.
"I know Oregon State is very happy with Jeremy so far, and that doesn't surprise me a bit."
Ainsworth formerly worked at PT Northwest and with Central High School in Monmouth. But his new position as an assistant athletic trainer at OSU, which started this past September, will conflict with the Knights summer season if everything goes as he hopes.
"I helped out with football in the fall but baseball is my No. 1 priority," he said. "And the ultimate goal is for us to go deep into the postseason" and advance to the College World Series if possible.
"If that happens, we will be in the middle of summer ball" by the time the college season ends, making it impossible to do both jobs.
Ainsworth graduated from OSU in 2002 with a Bachelor's of Science degree in Exercise and Sports Science with an Athletic Training option. He earned his Masters of Science degree in Exercise and Sport Science from Oklahoma State University in 2004 before returning to the Pacific Northwest.
"It was a great opportunity to come in and be a part of the community and the university," he said. "It's a way to advance my career. It's a great fit for me and for my family, and a good step forward."
Ainsworth said he will miss the relationships he established with the coaches, players and staff over the past decade the most.
"The staff has been there for a long time," and worked together closely as extended family, he said. "And there are all the interactions with the players, seeing how their careers have blossomed and developed.
"I've had some great experiences, and a lot of winning. That was the culture around the Knights. Top to bottom, it's a great organization to work for.
"Being out at the yard every evening...you can't beat the family environment you get there. It's 6:30 at night, the sun is just starting to go down, there are people in the stands...it was great."