Corvallis Knights Advisory Board Big Help.
April 11, 2011
Corwin, Hennessy, Pinion, Sanders, Schultz and Snelling Big Part of Team's Early Success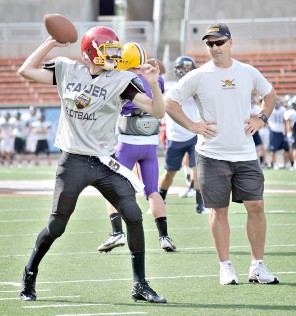 President Dan Segel was somewhat unfamiliar with the Corvallis market when the organization decided to relocate the Aloha Knights to the Heart of the Valley before the 2007 season.
He knew Corvallis had a strong American Legion baseball program, and he knew of the Reynolds brothers, Kevin Gregg, Jim Wilson, Mike Thurman and other natives of the area who'd played in the major leagues.
And he knew the city was bonkers about the Oregon State Beavers. They won their first NCAA baseball championship in 2006 and would capture their second in 2007 during the Knights' first month in their new home city.
But Segel needed guidance and advice from some influential local movers and shakers with baseball ties to make the shift to Corvallis a smooth one, to ensure the journey downstate from Mount Hood Community College to Goss Stadium went off with a minimum of surprises and other unexpected turbulence.
So he formed the team's first Advisory Board, an experienced group of baseball people with a deep well of institutional knowledge and strong connections in Corvallis circles.
"We needed some influential businessmen with a strong sense of community involvement and investment to help us get established in Corvallis," Segel said. "Our Advisory Board was tremendously helpful at the time we relocated the Knights, and has continued to play a key role in the growth and development of the franchise."
The members of the Knights Advisory Board are:
- Mike Corwin of the OSU Federal Credit Union. His son, Aaron, pitched for the Knights in 2010.
- Former Oregon State basketball player Tim Hennessy, a local insurance agent.
- Ex-Corvallis High/Richey's Market/OSU baseball player Paul Pinion, the owner of Pinion Property Management.
- Corvallis developer Scott Sanders (pictured), a former OSU baseball and football standout and the football coach at Crescent Valley High School.
- Former Corvallis High/Richey's Market/OSU pitcher John Schultz, a 20-year employee of Van Vleet Meat in Albany.
- Former OSU shortstop Allan Snelling, a Newport native who now lives in Sherwood and works for Marlin Leasing in Portland after a lengthy career in the banking industry.
Snelling never played for the Knights but growing up in Newport, and then playing for the Beavers and maintaining close contact with the program, has long had a vested interest in Corvallis-area baseball.
It's exciting to see the growth and success of the Knights since their inception," he said. "For the Corvallis community, being able to extend the baseball season into the summer provides for great family entertainment and great baseball."
Corwin said it seems like "yesterday" that Segel asked him and the other advisory board members to assist in the franchise's relocation.
"He asked how to best develop the Knights program into one that could become ingrained into the Corvallis community," Corwin said, recalling those early transition meetings. "We threw out some contacts and ideas, but Dan and his team have taken that to an entirely different level.
"They've stuck to a top-notch business and marketing plan that has made the Knights part of Corvallis' fabric each and every summer."
The Knights have grown from a modest beginning - they averaged slightly more than 400 fans per game in their inaugural season - into a summer institution.
"It's been my pleasure to watch the Knights grow these last few years," Hennessy said. "As an original advisory board member, we were excited about the possibilities of having summer baseball in Corvallis and all of the opportunities it could bring to our fans both young and old.
"Before coming to Goss Stadium from the Portland area, the Knights averaged 81 fans per game. Our goal the first year was to try to raise that number to 250. We exceeded this averaging 439 in 2007, 640 in 2008, 911 in 2009 and 1,000 in 2010.
"The Corvallis community reached out to our Knights and a love affair began. The Knights in return have reached out to our youth, not only as good examples and mentors but also with many free skills clinics through the Boys and Girls Club."
Pinion cited the Knights involvement with many community groups, such as Corvallis and Albany Little League Baseball; the Albany and Corvallis Boys and Girls Clubs, the T. Gerding Construction American Legion baseball program, and other organizations.
"I think that is important," he said. "Watching the growth and success of the Knights has been fantastic. To understand where this team has come from to where it is now is amazing."
The Knights are taking more big steps this summer by staging the Reser's Oregon All-Star Series at Goss Stadium on June 18-19, and the West Coast League All-Star Game, powered by PEAK Internet, on July 26.
The three-game high school series, the latest incarnation of the old State-Metro Series held in The Dalles for many years, matches 6A/5A all-stars from the southern part of the state against their counterparts from the Portland metropolitan area.
The Advisory Board has close ties to the series.
Pinion played for the old State team in 1984 after his graduation from CHS during the series' heyday in The Dalles.
"Bringing the Oregon All-Star Series to Corvallis will benefit both our city and the series," said Pinion, who later played at California and at OSU.
"Every player is honored to be selected, but to have the opportunity to play at Goss Stadium makes it that much more exciting.
"The series is really a great opportunity for these players to showcase their skills to college coaches and scouts. I really believe that just like the Knights, the Oregon All-Star Series will find success in Corvallis."
Corwin's son, Aaron, pitched for the State team in 2009 after his graduation from CHS, when it was played in Bend and perhaps on its last legs.
"The Oregon All-Star Series has great potential, but has needed an injection of new energy for some time now," the elder Corwin said. "The fact they can bring it to a fantastic venue like Goss Stadium and apply the Knights' standard for high-quality event production gets me excited for the senior classes of Oregon high school baseball in the years to come.
"They should have a memory to last well into their futures."
The WCL All-Star Game is being revived after a two-year hiatus. It will also include a pre-game Home Run Derby, and a postgame fireworks show.
"How great is that?" Hennessy asked, rhetorically. "If you love baseball, summer in Corvallis is where it's at."