Ten Knights Picked in 2016 MLB June Draft.
June 12, 2016
Former Corvallis Catcher Logan Ice of OSU Picked in Second Round by Cleveland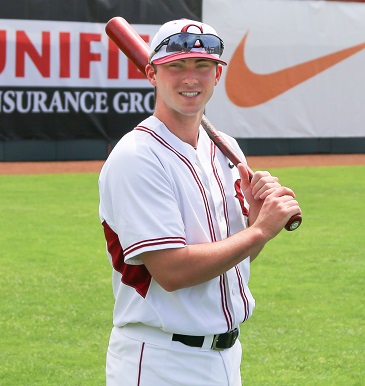 Ten former, current or future Corvallis Knights were selected in the Major League June Draft this past weekend held June 9-11, and another alum was called up to the major leagues for the first time in his career.
Oregon State catcher Logan Ice (pictured, 2014), who played for the Knights following his freshman season, was taken by Cleveland in the second round on June 9 as the 72nd overall pick of the draft, held in Secaucus, N.J. Ice was named the WCL's No. 14 pro prospect by Perfect Game following the 2014 season.
A catcher from Puyallup, Wash., he played at OSU from 2014-16. As a junior, he was named the Pacific-12 Conference Defensive Player of the Year, first-team all-Pac-12, and a semifinalist for the Johnny Bench Award.
Junior right-handed pitcher Stephen Nogosek (2013) of Oregon went to Boston in the sixth round as the 178th overall pick. Nogosek was a first-team all-Pac-12 pick in 2016.
He went 1-1, 3.85 in eight games as a pitcher in 2013, with 12 strikeouts in 11.2 innings, for the Knights in 2013, the summer before his freshman year at Oregon, and was ranked as the WCL's No. 16 pro prospect by Perfect Game.
Nogosek also hit .232 with four RBIs in 22 games as a position player.
Junior southpaw Austin Sodders (2014) of UC Riverside went to Detroit in the seventh round as the 205th overall pick. He went 2-0, 4.28, with 23 strikeouts in 21 innings pitched over 15 games for the Knights in 2014, following his freshman season at Riverside Community College.
Junior right-handed pitcher Justin Calomeni (2014) of Cal Poly went to Colorado in the ninth round as the 260th overall pick. He went 1-3, 4.33 in 10 games with the Knights in 2014, following his freshman season at Cal Poly, with 37 strikeouts in 45.2 innings.
Calomeni was the WCL's No. 9 prospect by Perfect Game after the 2014 season. He played for Bellingham in 2015 and was rated as the No. 7 top WCL prospect by Perfect Game and No. 9 by Baseball America.
Sophomore pitcher Dakody Clemmer of Central Arizona College was picked in the 19th round by Cleveland. Clemmer shined last summer for the Knights as he went 3-1 with two saves and posted a 2.98 ERA in WCL play. The right-hander from Vancouver, Washington earned 2015 all-WCL honorable mention honors.
UC Irvine junior lefty Elliot Surrey (2013), winner of the Knights Top Pitcher Award in 2013, went to Seattle in the 26th round as the 777th overall pick. Surrey was a first-team all-West Coast League selection that summer, as he went 5-1 with a league-best 1.27 ERA.
Senior catcher Ryan Matranga (2015) of the University of San Francisco was chosen by the hometown Giants in the 36th round as the 1,085th pick. He hit .230, with a homer and 12 RBIs and was honorable-mention all-WCL last summer. He was first-team all-WCL selection in 2014, when he played at Kitsap.
Senior outfielder/infielder Caleb Whalen (2012) of Portland went to Milwaukee in the 38th round, as the 1,031st selection. He hit .271, with 10 doubles, a homer and a team-leading 28 RBIs for the Pilots this past spring.
Current Corvallis outfielder/third baseman/catcher Adley Rutschman, a two-time 6A all-state player at Sherwood High School, went to Seattle in the 40th round as the 1,197th pick. He is an OSU signee and the son of former Knights player/coach Randy Rutschman.
Infielder Scott Ogrin, a 2016 Knight-to-be from Valencia (Calif.) High School who has signed with Cal Poly, went to Minnesota in the 27th round as the 813th selection.
Also, the Colorado Rockies recalled lefty Tyler Anderson (2009) from triple-A Albuquerque on June 11. . He played at Oregon and was the initial Corvallis Knight to be drafted in the first round, in 2011.
Anderson will be the ninth Aloha/Corvallis Knights alum to appear in a major-league game this season when he makes his debut, joining lefty pitchers Greg Mahle (Angels), Matt Boyd (Tigers), Marc Rzepczynski (A's) and Josh Osich (Giants); right-handers Matt Andriese (Rays) and Bud Norris (Braves), and third baseman Matt Duffy (Giants) and catcher Chris Stewart (Pirates).
For a complete listing of West Coast Leaguers selected in the 2016 MLB June draft, please click here.